Many academies make their students wear their own gi's. However, a lot of times, you have the option of wearing your own unique rash guards. And if you train at a no-gi school, then you probably have several rash guards that you rotate with during the week. Rash guards provide a lot of benefits to grapplers. As the name implies, it does prevent rashes from occurring under your gi. It also keeps you drier than wearing a plain t-shirt when rolling.
So if you wear a rash guard, and we recommend that you do, you can really attract some attention with unique one. We do however believe, you should attract attention with your Jiu Jitsu skills first. Following, are crazy and funny rash guards for Jiu Jitsu and MMA that you can find online.
INCREDIBLE HULK RASHGUARD
(click on picture for latest price)
The model in this picture doesn't need the extra help in showcasing his muscles. However, if you are on the weaker side, or want to show your inner incredible hulk, then this is the rashguard for you. Personally, we prefer longer sleeve rash guards to protect the elbows, but if you like short sleeves, then this one even features a nicely painted 6 pack. This rashguard is made by Under Armor.
AMIGO RASHGUARD
(click on picture for latest price/NOT AVAILABLE ANY MORE)
Arriba Arriba! Show your opponent who is the boss with this great rashguard from Newaza Apparel. Traditional design with hidden revolver. This rash guard is part of their "Stay Grounded" collection.
HAMBURGER RASHGUARD
(click on picture for latest price)
Would you like an armbar with your burger? You will be the talk of your academy when you wear this larger than life hamburger rashguard. This guard is made by Hypnotik and comes in long sleeve.
PROFESSOR RASHGUARD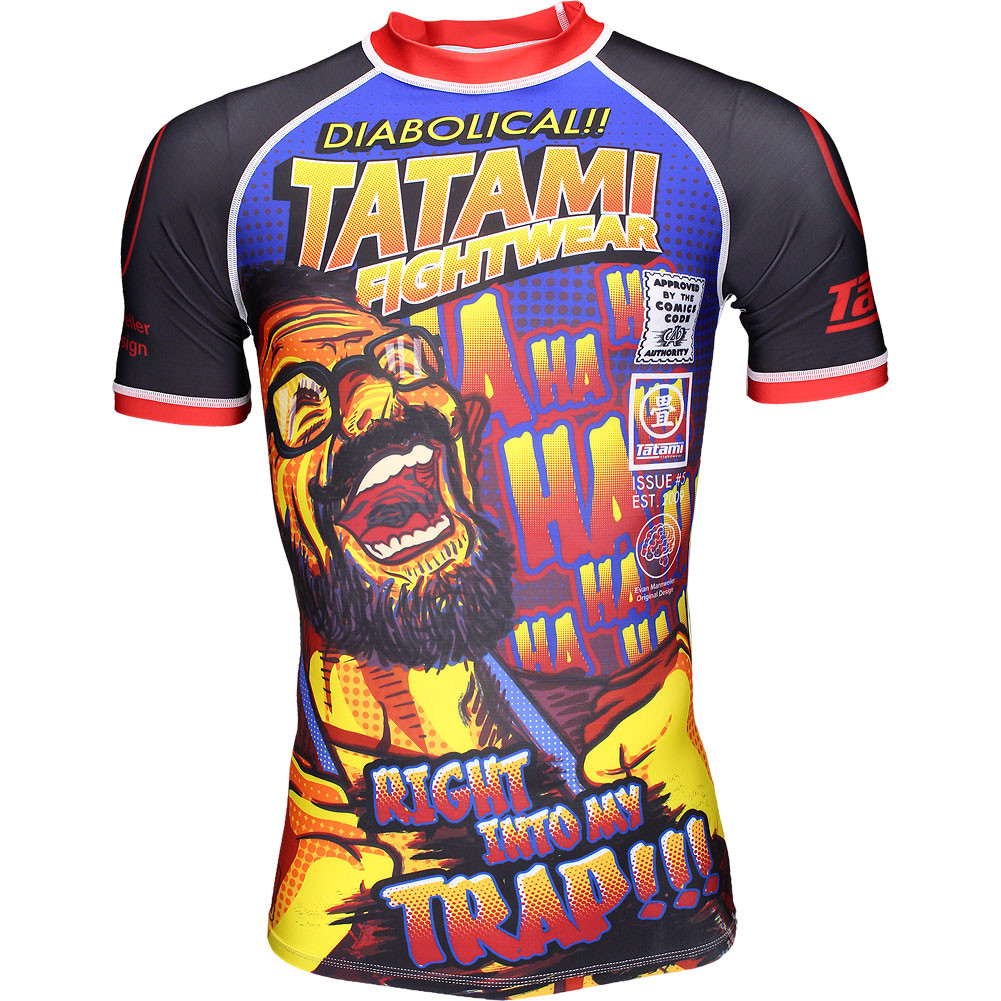 (click on picture for latest price)
Is your Jiu Jitsu game more methodical? If so, then this diabolical professor rashguard is for you.  Vibrant colors and comic book inspired design. This rashguard, designed by Tatami, is part of their new comic book collection.
ROBOT RASHGUARD
(click on picture for latest price)
Are you a Jiu Jitsu machine? Then this is your robotic rashguard. Green robotic design. This long sleeve rashguard is designed by FUJI and has great detail. Aside from green, they also have one in blue.
TUXEDO RASHGUARD
(click on picture for latest price)
If you like to dress up off the mats, then why not dress up ON THE MATS? Show up to class in your elegant tuxedo rashguard. This long sleep guard is available in 4 colors and made by Hypnotik.
As you can see, you have a great variety to choose from when it comes to rashguards. If you don't like to attract this much attention, you can get plain solid color rash guards at your local sports store.