Like many other combat sports that need whole body uniforms for training and comes with different sizes depending on the body types, Brazilian Jiu Jitsu also has its own size chart for individual practitioners to choose from. While the size chart comes with variety of sizes, this post is intended for individuals with A5 as their gi size.
To spot the best BJJ Gi A5 isn't always guarantee that it would perfectly fit to your body size given other considerations such as composure, height, weight, and body structures, especially if you are a newbie and you have yet to buy first BJJ gi, or even belt, to begin your training with. Below is the list of the best BJJ gi brands to get your A5 gi size on-point in comparison to other gis which might sometimes appear quite bigger or smaller even purchasing your exact gi size.
Elite Sports IBJJF Ultra Light BJJ Brazilian Jiu Jitsu Gi W/ Preshrunk Fabric & FREE BELT

Hayabusa Cotton Goorudo 2 Gold Weave Jiu Jitsu Gi

Jiu Jitsu Gear Brazilian Jiu Jitsu Premium Uniform With Free BJJ Belt
Elite Sports IBJF Ultra Light BJJ Brazilian Jiu Jitsu w/ Preshrunk Fabric & Free Belt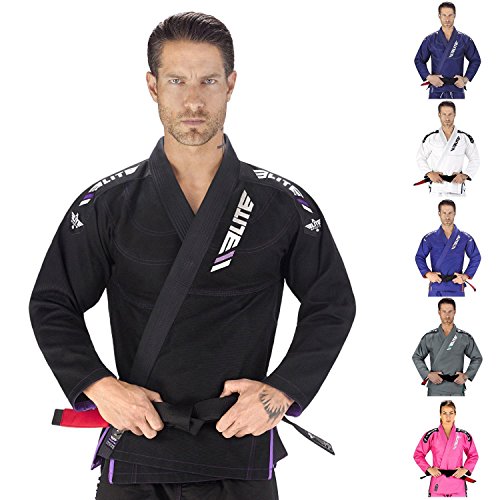 The Elite Sports IBJF Ultra Light BJJ Brazilian Jiu Jitsu offers numerous features that are highly significant for practitioners religiously playing this martial art. Setting aside many other benefits that one can get from using this gi brand, this comes into view with great style and fitting – just on-point when it comes to sizing.
This gi is among the top BJJ gi brands that have received praises for its style and perfect sizing. If you have yet to get your own BJJ gi and you've been having a difficult time deciding which brand you should try first, knowing that a lot of brands are getting bad reviews about wrong and inaccurate size charts, you can never you go wrong with the Elite Sports IBJF Ultra Light BJJ gi.
Below is the size chart for the Elite Sports IBJF Ultra Light BJJ gi, which is made of a preshrunk fabric and comes with a free belt. Check out the sizes to give you a better proposition and understanding of the BJJ sizing scheme.
A1: Height – 5'2″ to 5'6″ Weight – 120 to 155 lbs
A2: Height – 5'7″ to 5'9″ Weight – 155 to 190 lbs
A3: Height – 5'10" to 6'0″ Weight – 190 to 225 lbs
A4: Height – 6'1″ to 6'3″ Weight – 225 to 270 lbs
A5: Height – 6'4″ to 6'7″ Weight – 270 to 305 lbs
PROS
Classy and stylish
Great gi especially for the price.
Barely shrinks after washing
Weave is strong, light, and breathable
Very durable, especially for the price
Durable pants with thick rope and double loop draw ties
Won't sag in the middle of intense training
Lightweight
Preshrunk
Reduces the risk of bacterial and fungal infection
Displays great style, makes you look cool and stylish
CONS
Pants too short than expected
Jacket too small than expected
Hayabusa Cotton Goorudo 2 Gold Weave Jiu Jitsu Gi
The Hayabusa Cotton Goorudo 2 Gold Weave Jiu Jitsu Gi is well-constructed to the highest standards. Like the Hayabusa Goorudo 3 Gold Weave, this model happens to be one of the most well-favored gis in the markets which also emphasizes style and accurate size chart.
In addition, it comes into view with several features of which you do not have to exert much effort in keeping your stress areas well protected from injuries. It has reinforced stress areas all throughout the jacket and pants and is made with 550 GSM Gold Spec-Weave Material and 12 oz Twill Cotton pants – making it extremely durable and provides superior strength.
With that, this gi is highly recommendable for practitioners who usually go through intense training and religiously join BJJ competitions. If you get to spend more than 60-hours on your daily rolls on the mats, this one is the best choice to suffice the need of long training and intense mat sessions, allowing you to have an optimum performance in general.
PROS
Fits perfectly and goes out with great style
Great looking gi
Very comfortable to wear
Highly durable
Soft pants, which makes it more comfortable to use
Strong and stays put in the middle intense training and competitions
Great quality, especially for the price
Thick and hardy, meet customer expectations
Same awesome quality with other Hayabusa uniforms
Kimonos get better and better once worn – perfect for all types of intense training
Jacket is extremely soft, comfortable, and not stiff unlike other Gis
CONS
Pants shrunk after washing
Your Jiu Jitsu Gear Brazilian Jiu Jitsu Premium Uniform With Free BJJ Belt
The Your Jiu Jitsu Gear Brazilian Jiu Jiitsu Premium Uniform comes with a free white and or blue belt applicable to all gis. Setting aside the freebie, the benefits that you can get from this product are no less than the first two BJJ gis in terms of quality and durability. What's totally unique about this brand is that it gives you the freedom to customize your own gi based on your preference and needs as an individual practitioner.
If you think you want to keep it a bit simple, you can add minimal patches or keep it blank instead. Or vice versa, you can freely add any patches that you want to fully customize the gi to represent your school or organization you're in. Check out the pros and cons from the reviews made by customers who have tried the product themselves.
PROS 
Well-made to the highest standards
Minimal  branding and doesn't shrink easily after washing
Has superior durability, especially for the price
Fits perfectly
Stays put nicely in the middle of aggressive drilling and rolling
Great style
Good looking gi
Can last longer after several intense rolls on the mats
Great deal, very comfortable
Size chart is on point
Highly recommended for beginners
Made of extremely high quality materials, but not too stiff unlike other gis
CONS
Still shrinks a little after several washes – does not live up to the description "preshrunk"
Might not be perfect for some with big shoulders, it actually makes the fitting more diffiicult
The aforementioned BJJ gi brands have long proven its reputation in the market and have been frequently getting great reviews from its respective users. Among the reviews complimenting the products in general, great fitting and sizing are highly being considered as one of the attributes as to why consumers keep coming back to purchase the same brand.