Whether or not you have the interest to learn any types of martial arts, safety comes first. One of the reasons why combat sports require intense and thorough training for individuals who are planning to add it on their list of favorite hobbies is to avoid getting injuries and get into unexpected accidents while performing the combat system.
Aside from intense body movements from different angles and positions, the hands get most of the work in performing this martial art. With that, getting hand injuries is inevitable most of the time – that is where the purpose of BJJ finger tapes take place. Check out the list of "Best BJJ Finger Tape" below and decide which one is the best pick to keep your movements free and safe despite your injury.
PowerTrain Finger Tape – 1cm x 10m
White Athletic Sports Tape for Athlete & Medical Trainers. Strong and easy to use. (White, 3-Pack)
Aside from getting a good Jiu Jitsu mat to help you keep up with your training sessions, one of the common practices to protect yourself from getting more injuries while training is through finger taping. Taping your fingers in Jiu Jitsu is an effective way to control the movement of your fingers containing the damaged joint, however, this method is also used to strengthen your grip against your opponent while combating.
PowerTrain Finger Tape – 1cm x 10m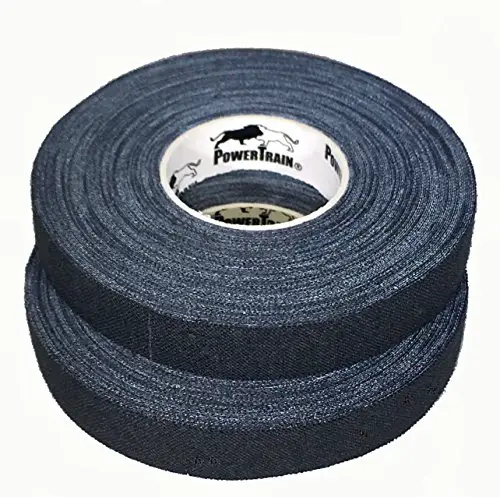 Numerous finger tapes brands do not only work best for Brazilian Jiu Jitsu, they are also perfect for many other active combat sports such as MMA, Judo, Crossfit & Climbing. The PowerTrain Finger Tape is made of 100% cotton and latex free, which means this tape is just extremely comfortable to wear.
While keeping your fingers fastened and secured from any additional injuries that you may get from intense training and competitions, you won't be having a hard time executing your movements in the middle of your battle because PowerTrain Finger Tape is made to the highest standards and quality – but doesn't need to compromise the benefit of comfort in general.
In addition, the PowerTrain Finger Tape is water resistant adhesive and remains very durable through sweat. The material is also non-elastic to maintain maximum compression and constant tension. If you have bigger injuries, this one is the perfect answer to keep you going with your upcoming training.
PROS
Very strong and keeps its durability
Stays strong and holds longer even after going through tough rolls in the mats
Great quality finger tape, especially for the price
No need to cut or rip the tape for use on fingers.
Unlike many other tapes, PowerTrain doesn't gradually peel off
Endures adhesive training sessions
Easy to rip with just your fingers
Keeps you going amidst long training involving hard drills, grip movements, and ground movement
Help stabilize whatever joints are acting up
 Stays in place for throughout the whole training session and doesn't roll up on all the edges
Super sticky
Does what it should, doesn't break, and it looks cool
Excellent tape for for Jiu Jitsu, Power Lifting and Obstacle Training
Provides proper supportCan also work best for medical purposes
Like most products in the market, negative reviews are unavoidable.
Below are the cons listed from some of the reviews made by individuals who have personally used the product themselves.
CONS
Adhesive may stick on fingers after going through rough and longer training sessions
Stickiness of the tape can be too much for some
White Athletic Sports Tape for Athlete & Medical Trainers. Strong and easy to use. (White, 3-Pack)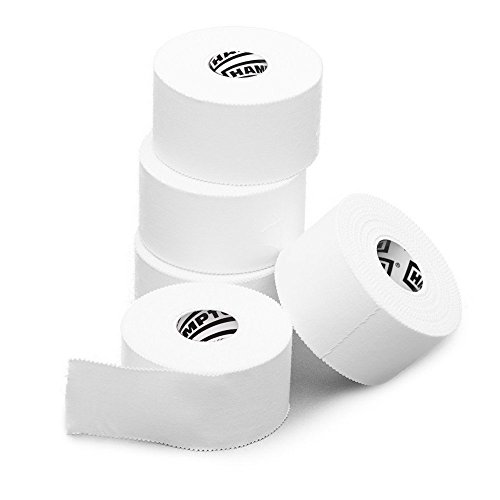 The White Athletic Sports Tape is made to the highest standard and comes into view with a special formula to make sure it is comfortable and safe to use for any type of combat sports including the Brazilian Jiu Jitsu. This tape can be used not only by athletes, but it also highly recommendable for medical purposes.
All finger tapes are surely all made to be very durable, but this one will not give you a hard time as there is absolutely no need for tape cutters. It also holds longer than expected and sticks like many other great tape brands in the market. Given that it is made of 100% cotton, this alone does not restrict the limits of the product for medical use, which can work best for physical therapists and or therapists.
Yes, it is made of 100% cotton, but that doesn't mean this tape won't last through long training and workouts. The White Athletic Sports Tape is a total package if you are looking for something that will suffice your need for comfort and protection all the same time while enjoying intense rolls in the mats.
PROS
Protects your hands at all cost
Very easy to tear and rip off your hands even after finishing up long hours of training
Great materials used and awesome packaging
The tape is very strong and durable
Serves and works great in protecting injured/damaged joints
High-quality
Perfect for rock climbing and weight lifting. For climbing, they work great when taking individual fingers, and for hook-grip during
Olympic lifts
Good adhesive
Good at protecting the wrists during barbell sessions
Strong tape but easy to test
Very reasonable price, tears straight, stays on well until you get it wet., and it comes off easily
Great quality for the price
CONS
Material too thin
Looses faster than many other finger tape brands
Adhesive is not hypoallergenic
Not recommended for individuals who have sensitive skin
Based from the reviews as well as the pros and cons of each product, it seems as though the PowerTrain FingerTape is highly recommendable in general – as per its overall quality including durability, benefits, strength, and adhesiveness of the product. However, if you are looking for more options and wish to narrow more than two products down, you can check them out through Amazon. Here is the direct link – Amazon BJJ Finger Tapes.
If you think you can still keep going and finish your scheduled BJJ training, you can never go wrong with one of these best BJJ finger tapes to protect your joints from getting additional damage and injuries. For newbies and beginners in this martial art, they will probably have to spend more time on practices and training before mastering this combat sport and in the process, getting injured is inevitable sometimes.
Being able to do your daily Jiu Jitsu practices regularly is a huge achievement unlocked, even more if you're a beginner. But never forget that it's also your responsibility to take care of your body and stray away from possibly getting yourself injured in the process.