Just like many other sports enthusiasts who exert an effort to maintain their respective sport hobbies, as a Brazilian Jiu-Jitsu practitioner, you might as well be thinking of making this combat sports hobby on point by keeping a track of the latest BJJ Gis in the market. Thus, doing so will help you find a gi that will not only give you safety training sessions but also all worth it.
But, are you really getting what you pay for? Were all the Gis you have purchased all worth it? Bunches of great BJJ Gi brands are in really close competitions in the market, and, most buyers who religiously practice Brazilian Jiu-Jitsu will more likely check the features of the product first before the price, or vice versa.
Below is a list of best BJJ Gis for the money that you might want to check out, which you can use in case you want to add another Gi on your collection.
While the decision making depends on the capacity of the buyer to purchase, it's a good thing that you know which BJJ Gis are really worth your money. You can't just go spend all of your money for something not even worth buying for, and, that is why you need to consider checking out this post to get an idea as to which set of BJJ Gi is going to roll this 2018.
Elite Sports IBJF Ultra Light BJJ Brazilan Jiu Jitsu Gi W/ Preshrunk Fabric & FREE BELT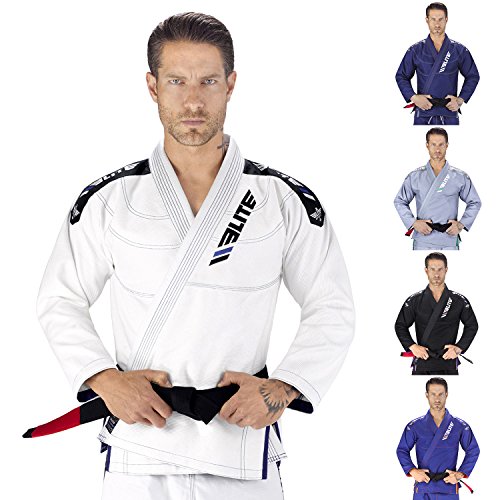 The Elite Sports IBJF Ultra Ligh BJJ Gi is made of a preshrunk fabric, allowing you to hit more practices and training for longer time than many others. It also comes into view with a free white belt with stripe bar, so if you don't have the belt yet to complete your BJJ Gi set, you don't have to spend more in order to look cool and practice with style.
The materials used in this Gi reduce the high risk of infections. Given the amount of energy that you have to put on in the middle of your training, practices, competitions, or even just your random ordinary mat sessions, you will definitely sweat a lot, which increases the risk of bacterial infections. With this special feature, you will be prevented from any bacteria and fungal infections that your body might be expose of in the latter.
PROS
Classy and stylish
Good all around Gi, especially for the price.
Barely shrinks after washing
Weave is strong, light, and breathable
Very durable, especially for the price
Durable pants with thick rope and double loop draw ties
Won't sag in the middle of intense training
CONS
Pants too short than expected
Jacket too small than expected
FUJI BJJ Uniform
The FUJI BJJ Gi is one of the most popular brands among top athletes. This Gi is highly recommendable for intense training and subsequent tournaments as this comes with very high-quality materials purposely designed for fit, durability, and comfort.
If you're a veteran Jiu-Jitsu practitioner and has been religiously playing the combat sports for a long time, you sure have already heard of this brand and on why it has been considered as one of the most trusted BJJ kimonos in the world. In fact, this BJJ Gi works best for all types of training, but more fitting to individuals who want to achieve optimum performance.
PROS
Great quality in general
Very comfortable, nice fit
Adequately thick with reinforced knees
Very affordable, especially for the quality and durability with a five-stars rate
Cool style and colors
Not too flashy or filled with logos and other extra stuff – simply minimalist
High quality collars that do not leave rashes
Collar holds up longer than other Gis
Keeps the same quality and durability even after numerous rolls in the mats
Price-wise especially for the quality compared to other Gis
CONS
Sizes too big for some
Can get heavy and hot when too much sweats are all over the uniform
Gradually shrunk
Hayabusa Lightweight Jiu Jitsu Gi
The Hayabusa Lightweight Jiu Jitsu Gi ideally works best for all types of training. The jacket comes into view with 420 gsm PEARL weave cotton and reinforced lapel and stress areas, and, the pants are constructed with 8oz ripstop cotton-polysester blend with reinforced knees and stress areas. With those features highlighted, you can never go wrong when achieving an optimal performance in between training and tournaments.
This Gi is also IBJJF Certified and 100% compliant, which means this will be all-set as your total package BJJ Gi for any tournaments and competitions. Hayabusa is a popular brand that comes with great real-time reviews from individual Jiu-Jitsu practitioners who have tried the product themselves.
PROS
Very durable and fits nicely
Great quality for the price
Very comfortable to wear
Thick and hardy, meet customer expectations
Same awesome quality with other Hayabusa uniforms
Kimonos get better and better once worn – perfect for all types of intense training
High quality materials and design
Comes with awesome style, just like other Hayubasa Gis
Jacket is extremely soft, comfortable, and not stiff unlike other Gis
CONS
The Gi ran smaller than usual once worn
Pants shrunk after one wash
You may not be very particular on the prices, but more on the quality of the Gi. But, isn't it going to be a lot wiser for you being the buyer if you will consider the product quality equivalent to the price you are about to pay for and or vice versa, purchasing the best Gi for the money you will be taking out of your own pockets.
Though tons of benefits can be seen in a highly-durable BJJ gi, some downsides are also inevitable such as wrong sizing chart and or the uniform might end up too big which makes the entire training session uncomfortable. To really get our money's value, we should carefully review the pros and if that includes an on-point BJJ gi sizing chart. 
The Elite Sports IBJF Ultra Light BJJ Gi, the Fuji BJJ Gi and the Hayabusa Lightweight Gi are definitely three of the must-tries Gis in the markets. Choosing the best Gi depends on your needs and preference as a Jiu-Jitsu practitioner, but checking out these Gis in the list will surely give you better ideas and suggestions before you finally wrap up you decisions on which one will make you feel comfortable and more stylish.