There are many different backpacks available for the Jiu-Jitsu participant, but this article is designed to assist you in finding the best bjj backpack for your needs. You can also read our picks for best overall Jiu-jitsu Gi bags in this article. There are a variety of people who participate in this sport, each with their own individual needs of transportation.
Although there are a few fundamental things which all martial arts and Jiu Jitsu participants have, specific backpack needs can vary making it important for us to review individual specs on each pack before making a final decision. Check out this entire review and you will find out why brands such as Venum, Elite Sports, Datsusara, Gold, and Grips Gi Sack are few of the most popular backpacks being used by many Jiu-Jitsu practitioners.
While some packs are designed to meet your Jiu-Jitsu needs more than others, each bjj backpack is unique and can be utilized for a number of things, including activities outside of the sport like carrying books. Especially since these backpacks are pricier than other backpacks, you definitely want to make sure you get the biggest bang for your buck. Often times, participants are looking for packs that are strong which can assist them in carrying all their gear while not being to damaged or stunk up by the rough and dirty equipment.
In a Hurry? Here's our Top Picks

Elite Sports NEW ITEM Black Mesh MMA, Bjj, Gear Gym Backpack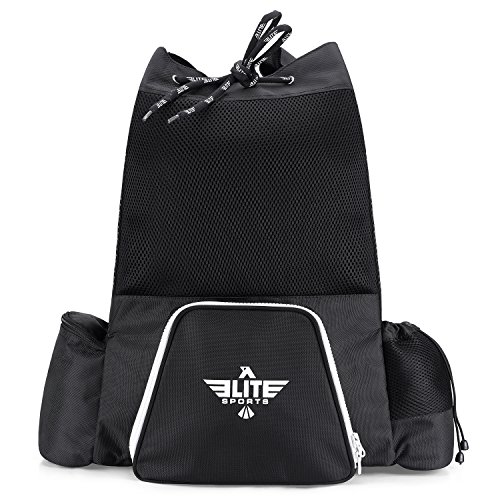 Size: 20″ long x 9″ wide x 11″ high (small) 23″ long x 11″ wide x 12″ high
Material: Mesh and Heavy Duty Cordura
There is one unique feature of this backpack that we particularly like. The main compartment closes with a drawstring instead of the regular backpack buckle. Some actually may not like this feature, but we find that if you are stuffing a lot of items into your backpack and are carrying something long, like maybe some shin guards, you can have them sticking out of your backpack while still tightly closed.
This backpack gives you sufficient storage space that will allow you enough room for all of your important gear. You can comfortably pack your fighting gloves, Jiu Jitsu Kimono, guards, head gear and other necessities with no issue. The bag has been created with mesh beats that are entirely ventilated, allowing for unwanted odor to easily seep out and preserve the well being of your supplies. While the backpack remains tough in nature, it is extremely light and will not add on extra pounds when you go to transport your Jiu Jitsu accessories in it.
Overall the back is versatile for numerous occasions and gives you the sufficient space needed to store all your necessary belongings. All in all, consumers give lots of positive feedback regarding the pack with little, if any reports of difficulties while using it.
Venum "Challenger Xtreme" Backpack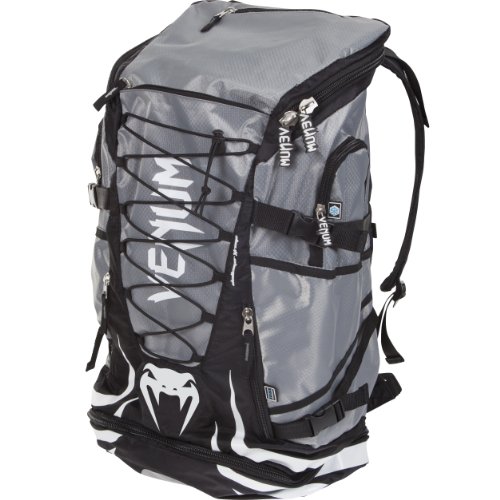 Size: 20.5 x 16.5 x 3.2 inches
Material: Water and hard resistant polyester fabric
This backpack is not only able to be used as a useful tool for transporting your Gi and gear, but it can also be transformed into a duffel bag if you develop the need to carry a larger load. It also comes with a cooler pocket attached on the side which stays fully insulated, allowing you to store items with cooling needs in a designated area.
If you have to travel a bit of a distance in order to get to your Jiu Jitsu practice, Venum's "Challenger Xtreme" backpack may be one of the best bjj backpack available for you to use. Not only does it have a specially designed pocket that will protect your phone against scratches, it also has a specific pocket for your mp3 player, even with a hole for your headphones to come out of. This is great for people who like to jam out to some tunes, to help them get excited and prepared on their way to practice.
Although many people enjoy the pack, some consumers have reported that the bag's material isn't as sturdy as others. In one particular case, a person reported that their backpack had begun to fall apart within a short amount of time, due to faulty material.
Datsusara Battlepack Core, Hemp and Antimicrobial Sports/Crossfit Backpack
Material: Hemp
Size:20″H x 13″W x 8″D
This backpack is most known for its durability. It is produced with hemp material (which is considered to be stronger than cotton even) and is even double stitched in a number of spots. The pack is designed with Antimicrobial technology, making this one of the best bjj backpacks for people who are wanting to avoid odors. If you ever need to get rid of the bag, you can rest your conscious as it made from environmentally friendly hemp that won't harm earth's soil.
The one downside to this bag is it's hefty price tag. However, you get what you pay for. So purchasing this bag will most likely last your entire lifetime and then some.
Gold BJJ Jiu Jitsu Backpack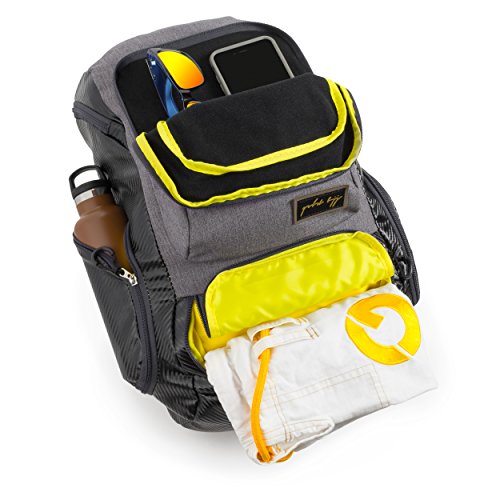 Material: High Grade Nylon
Size: 14 x 9 x 3 inches
Customer ratings for this pack are rather high, as the bag is particularly designed with jiu jitsu participants in mind. The pack has a particular compartment that is sweat-proof and waterproof, dedicated to storing your practiced in Gi until you can get it to the wash. Special nylon material has been used to create this pack into a tough and durable bag, specially made with your needs in mind. This bag even has a specific pouch, solely there to protect and store your belt while transporting.
Customers seem to really like this backpack. One thing to note is that it may be smaller than you would want. But then again, who wants to be carrying a Godzilla backpack around?
Grips Gi Sack Backpack With Rain Cover

This backpack is a well-liked bag by many jiu jitsu participants and BJJ users. It is designed with nifty, inner pockets that can be open and sealed with zippers which you can use to secure not only your training gears but many other necessities you might need such as towels, finger tapes, medicine bag, personal hygiene box, and more. The straps for the shoulders have been created with a special material and particular precision that causes it to absorb shock, enabling a more snug and comfortable fit when transporting your gear. The bag also has a water resistant cover to protect it and your belongings from experiencing damage due to rain or other mishaps that can occur while going to the gym.
Although in general many consumers seem happy, there has been report by one individual stating that the bags material did not hold up after a few months of light use. Due to the price, the customer was unhappy to note that their backpack was beginning to fall apart significantly prior to when they had expected.
BEST JIU-JITSU BACKPACKS: FINAL THOUGHTS
At the end of the day, there are a variety of great options available for Jiu Jitsu and martial arts participants looking to purchase a backpack or a gym bag. Depending on how much your training requires you to carry, the bag needs can differ based upon the individual. Hopefully this article was written in a way that was effective and efficient in giving information regarding different bjj backpack options currently available on the market. Be sure to do further research, in order to be an educated consumer when making a final decision on which backpack will be best for meeting you and your gears needs.