Gis in Brazilian Jiu-Jitsu have been the tradition in this martial art. But that doesn't give you the obligation to buy the expensive ones to start practicing this combat sport and express yourself in your own style. You can still actually look cool practicing Jiiu-Jitsu even if you just have less than $100 in your pockets.
There can be lots of other options where you don't necessarily have to spend more than the amount allotted within your budget, especially if you aren't looking for a competition gi. If you have been having a hard time looking for a cheaper Gi that still comes into view with style and comfort, check out this post and below is the list of best looking BJJ Gis under $100.
Before checking out the list alongside the reviews of each product. You might want to consider discussing a few things about what you are actually looking for in a BJJ Gi before wrapping up your decision as to which one you should purchase.
Comfort, durability, and style are the top attributes of a Gi that any practitioner would look for firsthand. Yes, you might be thinking that some brands known to be very reliable are mostly expensive. But, just because you can only afford the cut-rates Gis doesn't really mean you have to settle with the less comfy ones.
Sanabul Essentials v.2 Ultra Light BJJ Jiu Jitsu Gi with Preshrunk Fabric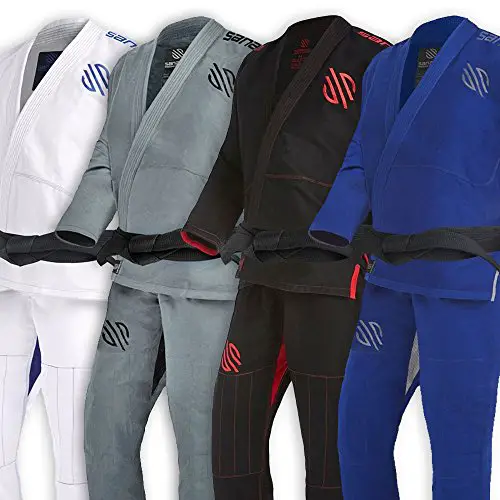 The Sanabul Essentials v.2 Ultra Light BJJ Gi comes into view with a single weave that is more durable than many other kimonos. Aside from highlighting its light weight fabric perfect for all types of training, making it more comfortable to wear, this type of Gi has an anti-microbial and anti-Odor treatments which work best during intense training and competitions.
Given the fact that this martial arts combat massively involves intense grappling and ground fighting, the built-in anti-bacterial treatments are the Gis preventive measures for bacterial infections. If you are someone who sweats a lot, you might want to add this one on top of your choices.
PROS
Good quality yet affordable
Extremely soft and very comfortable to wear
Not scratchy at all
Gi with greatstyle, especially for the price.
Almost close to other high-priced Gis in terms of quality and durability
Very durable, especially for the price
Comes with a perfect sizing chart
Great for starters and practitioners who make BJJ a form of relaxation
CONS
Collar is very soft, might break easily compared to other Gis
Shrinks a little
A little wide and a bit long compared to other Gis
Sizing runs large
Drawstring breaks easily than other Gis
Materials used are bit thinner than expected
Elite Sports IBJJF Ultra Light BJJ Brazilian Jiu Jitsu Gi W/ Preshrunk Fabric & FREE BELT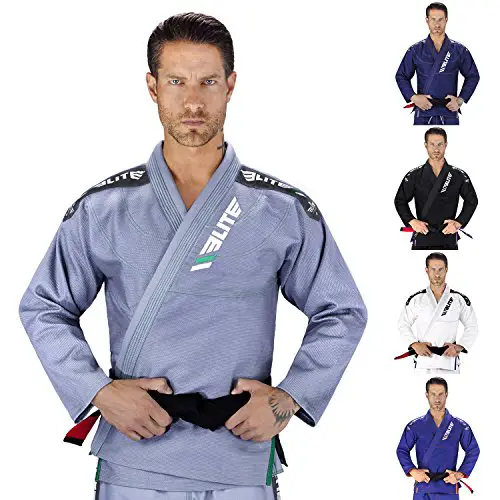 The Elite Sports IBJF Ultra Ligh BJJ Gi is made of a preshrunk fabric, allowing you to hit more practices and training for longer time than many others. It also comes into view with a free white belt with stripe bar, so if you don't have the belt yet to complete your BJJ Gi set, you don't have to spend more in order to look cool and practice with style.
Like the Sanabul Essentials v2 Ultra Light BJJ Gi, the materials used reduce the high risk of infections. Given the amount of energy that you have to put on in the middle of your training, practices, competitions, or even just your random ordinary mat sessions, you will definitely sweat a lot, which increases the risk of bacterial infections. With this special feature, you will be prevented from any bacteria and fungal infections that your body might be expose of in the latter if taken for granted.
PROS
Classy and stylish
Good all around Gi, especially for the price.
Barely shrinks after washing
Weave is strong, light, and breathable
Very durable, especially for the price
Durable pants with thick rope and double loop draw ties
Won't sag in the middle of intense training
CONS
Pants too short than expected
Jacket too small than expected
Hayabusa Lightweight Jiu Jitsu Gi
The Hayabusa Lightweight Jiu Jitsu Gi ideally works best for all types of training. The jacket comes into view with 420 gsm PEARL weave cotton and reinforced lapel and stress areas, and, the pants are constructed with 8oz ripstop cotton-polysester blend with reinforced knees and stress areas. With those features highlighted, you can never go wrong when achieving an optimal performance in between training and tournaments.
This Gi is also IBJJF Certified and 100% compliant, which means this will be all-set as your total package BJJ Gi for any tournaments and competitions. Hayabusa is a popular brand that comes with great real-time reviews from individual Jiu-Jitsu practitioners who have tried the product themselves.
PROS
Very durable and fits nicely
Great quality for the price
Very comfortable to wear
Thick and hardy, meet customer expectations
Same awesome quality with other Hayabusa uniforms
Kimonos get better and better once worn – perfect for all types of intense training
High quality materials and design
Comes with awesome style, just like other Hayubasa Gis
Jacket is extremely soft, comfortable, and not stiff unlike other Gis
CONS
The Gi ran smaller than usual once worn
Pants shrunk after one wash
Your final decision as to which one you should give a try more likely depends on your style preference and the number of features you are actualy looking for in a Gi. While it really doesn't matter at all, just as long as you feel it's the right BJJ gi to make your training smooth and safe as ever, if your budget is limited, try checking out these best looking BJJ Gis under $100.
Though the Hayabusa Lightweight Gi has much lesser negative reviews than the other two, you definitely won't go wrong with any of them. As what the feedback and reviews were all claiming, the quality, style, and durability of these BJJ Gis are still great especially for the price.