If you are a devoted Jiu Jitsu practitioner, you might also love the idea of collecting the best BJJ competition Gis to suffice what you exactly need for training and competitions. Unlike many other combat sports, Brazilian Jiu Jitsu is highly regarded in the world of martial arts. It consumes a lot of your effort and time for practices, daily rolls on the mats, and competing in tournaments.
With that, it's always a good idea to look for the best BJJ competition gi that you can use not just for a short period of time, but a uniform that can probably last longer than other regular gis in the market. While it's necessary to spend a lot of money to achieve the best style and quality, but if you're after getting the best gis made to the highest standards, never settle for less.
Here's the list of the best BJJ competition gi and decide from here as to which one is more fitting to your current skill set and preference as a Jiu Jitsu practitioner.
Sanabul Essentials v.2 Ultra Light BJJ Jiu Jitsu Gi with Preshrunk Fabric

Hayabusa Goorudo 3.0 Gold Weave Brazilian Jiu Jitsu Gi

Tatami Comp SRS Lightweight Gi
In addition, these Brazilian Jiu Jitsu Gis also come into view with real-time reviews from individual practitioners who have tried the products themselves.

Sanabul Essentials v.2 Ultra Light BJJ Jiu Jitsu Gi with Preshrunk Fabric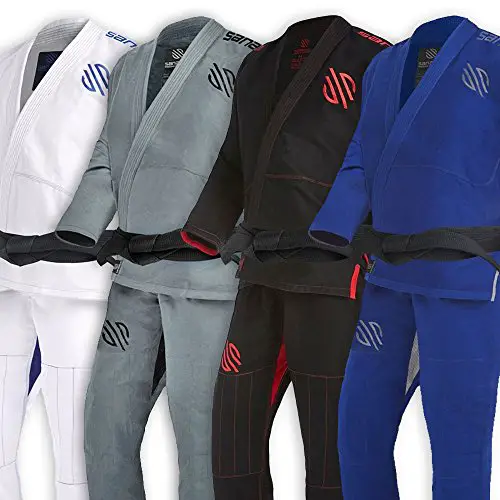 The Sanabul Essentials v.2 Ultra Light BJJ Gi comes into view with a single weave that is more durable than many other kimonos. Aside from highlighting its light weight fabric perfect for all types of training, making it more comfortable to wear, this type of Gi has an anti-microbial and anti-Odor treatments which work best during intense training and competitions.
Given the fact that this martial arts combat massively involves intense grappling and ground fighting, the built-in anti-bacterial treatments are the Gis preventive measures for bacterial infections. If you are someone who sweats a lot, you might want to add this one on top of your choices.
PROS
Good quality yet affordable
Extremely soft and very comfortable to wear
Not scratchy at all
Gi with greatstyle, especially for the price.
Almost close to other high-priced Gis in terms of quality and durability
Very durable, especially for the price
Comes with a perfect sizing chart
Great for starters and practitioners who make BJJ a form of relaxation
CONS
Collar is very soft, might break easily
Shrinks a little
A little wide and a bit long compared to other Gis
Sizing runs large
Materials used are bit thinner than expected
Hayabusa Goorudo 3.0 Gold Weave Brazilian Jiu Jitsu Gi
The Hayabusa Goorudo 3.0 Gold Weave is ideally recommended for all types of BJJ training and tournaments. The jacket comes with 550 gsm Gold weave cotton with augmented lapel and stress areas, while pants come into view with 12 oz twill cotton blend with augmented knees and stress areas.
Moreover, regardless of the belt colors, this Gi is still going to be a perfect match as it brings out the value of every Jiu-Jitsu execution. Speaking of performance, the Hayabusa Goorudo 3.0 Gold Weave was designed to be perfectly durable for daily rolls in the mats, which is a good thing for Jiu-Jitsu veterans who practice the sports religiously.
Pros
Softer than other Gis.
Extremely durable, which means it can last longer than other Gis.
Very high quality.
Good fit, comfortable to wear, and stylish.
Like most products, bad reviews are inevitable. Below are the cons listed based from some of the reviews.
Cons
Quite heavy and thick; might be a bit hassle to wear for some.
Filled with patches and embroidery
a little flashy Gi compared to many others.
Tatami Comp SRS Lightweight Gi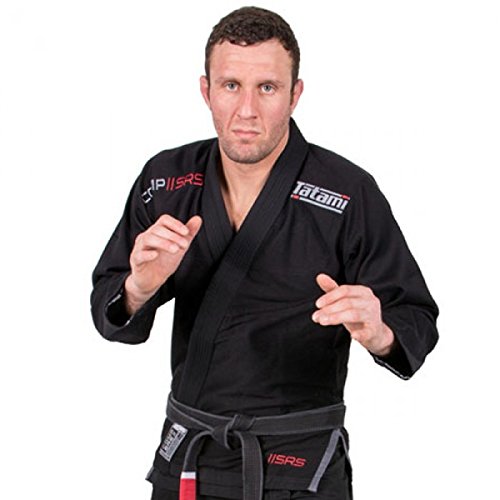 The Tatami Comp SRS Lightweight Gi is manufactured by Tatami Fightwear, a known brand that has been in the business of producing high quality Brazilian Jiu Jitsu Gis for 9 years. This Gi model offers various features that mainly have something to do with the product's overall durability and quality in general.
The jacket features a highly durable 375 GSM Pearl Weave Pro fabric, a material heavier than many other lightweight products. Assuring that the Gi comes out with superior quality and durability, it is well-constructed to hold longer in between daily training and competitions.
On the other hand, the pants are made of a NEW twin twill material, a mix of normal twill cotton a ripstop blend, making the pants achieve extreme durability while keeping the smoothness of the fabric.
If you regularly join BJJ tournaments as well as subsequently collect the best competition gis before hitting the battle, this one is definitely a must-try. Check out the pros and cons of the Tatami Comp SRS Lightweight Gi to help you decide if this is the right fit for you.
PROS
Great style
Nice fit
Not too thick and not too thin, keeps the balance on point
Lightweight, yet a very durable BJJ Gi
Great quality for the price
CONS
Which one is the best BJJ competition Gi for you?
Don't leave your home without stuffing your backpack with your best gi and  safety gears. Check out the list of best BJJ competition Gis and you can decide from there. If you value quality and durability more than the amount you're paying for, the Hayabusa Goorudo 3.0 Gold Weave and the Tatami SRS Lightweight Gi are your best options.
However, if you are looking for something with a total package in terms of quality, durability, and price, the Sanabul Essentials v.2 Ultra Light BJJ Gi with Preshrunk Fabric is highly recommended.
You can always opt for buying the best BJJ gi brand considering you have the budget, but gathering ideas from legit reviews made by practitioners who have personally tried the product is a huge help for you to find your perfect match. If you look at the reviews of each product, the Sanabul Essentials v.2 Ultra Light Gi and the Hayabusa Goorudo 3.0 Gold Weave seem to be getting a lot of great feedback and most of them were talking about the quality and durability of the product in general.
But, the decision always depends on how you wholly perceive the product based on your needs and style as an individual Jiu Jitsu practitioner. While the best BJJ Gi for you might not be the best one for others, what matters is that you are happy and a lot more comfortable with your own choice.