The market offers plenty of options for you to choose the best Brazilian Jiu Jitsu Gi brand to match your preference. Aside from comfort and style, everyone in this martial arts are looking after quality and durability as this sports combat consumes your physical strength so uniforms that can be easily broken might not be fitting, even more if you are looking for something you can use for long-term.
Here is the list of the best BJJ Gi brands alongside its real-time product reviews which you can use before wrapping up your final decision. Knowing the fact that performing this martial art hugely involves sparring, grappling, and intense ground fighting, it's definitely a best idea to look for a Gi that has the best quality and well-constructed to the highest standards.
You will probably have a hard time choosing the best BJJ Gi brand as the market now offers more than enough varieties to choose from. Hence, picking the right Gi varies from how you perceive the product in general. Not all Jiu Jitsu practitioners think and decide the same way as you do, so the best Gi for you might not be the best pick for them.
Storm Kimonos 'Supreme' Gi

Atama Mundial #9 Jiu Jitsu Gi (White, Black, Blue) + 30 Day Comfort Guarantee

Koral MKM Pro Competition Gi – White
If by any chance, you're eyeing for the best Gi to use for your training and upcoming competitions, try checking out this post and find the best match to suffice what you are really looking for and what you really need as a Jiu Jitsu practitioner.
Storm Kimonos Supreme' Gi
More than style, Jiu Jitsu practitioners would always come looking for comfort, safety, and durability. With that being said, knowing the overall pros and cons of the product is a huge factor with how you wrap your buying decision given that it might affect you and your training in the latter.
The Storm Kimonos Supreme Gi is one best example of a gi that comes into view with superior durability while keeping comfort at the same time. It is well-made of cotton weave fabric and breathable materials for the jacket, pants, collars, and small compartments which works perfectly for storing your mouth guards and other small gears for your training.
PROS
Weave is durable without being too heavy nor too light
Well-made to be extremely durable
Rip-stop reinforcement adds up to its durability
Collar is thick and light, which means it can hold up longer than many others
The kimono is beautifully detailed
Overall quality is superb for the price
Comes with great style
The kimono is beautifully detailed

Anti-Microbial Treatment

Preshrunk
CONS
Jacket sizing too large for some
Pants sizing may be too short or too long for some
Atama Mundial #9 Jiu Jitsu Gi (White, Black, Blue) + 30 Day Comfort Guarantee
Atama is highly recognized for the quality of their sports products. Mundial #9 is among their most popular items in the market, which already speaks for the overall quality of the product. If you're planning to get real with your training and mat sessions but have yet to decide which gi is the perfect match, try adding this one on your checklist.
The materials are well-made to keep lightness of the product, making it more flexible to use. Despite its lightness and flexibility, this gi manages to keep everything balanced and maintains the quality and durability of the product in general.
If you're quite serious with training and wishes to practice hundreds of BJJ techniques, you might need something that is all-around and highly dependable amidst intense tournaments and competitions. You can definitely give this Mundial #9 a try after checking out the pros and cons below.
PROS
Great quality in general
Very comfortable, nice fit
Adequately thick with reinforced knees
Very affordable, especially for the quality and durability
Cool style and colors
Keeps the same quality and durability even after numerous rolls in the mats
Price-wise especially for the quality
CONS
Sizes too big for some
Gradually shrunk
Koral MKM Pro Competition Gi – White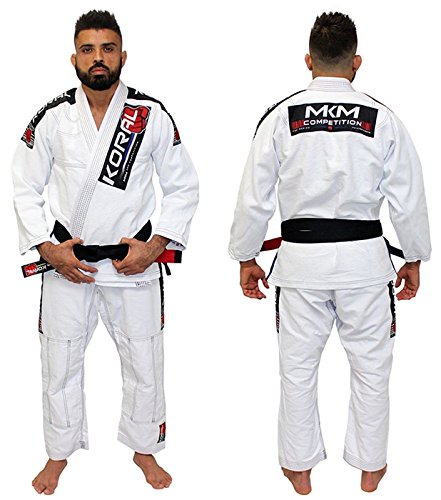 The Koral MKM Pro Competition Gi is made in Brazil and comes into view with 100% cotton. Many Gi brands including this one have long established their respective names in the markets, but Koral is more likely known for its smooth designs and superior quality in general. In addition, this Gi is 100% pre-shrunk and comes with EVA foam rubber collar that is as soft as ever but keeps the material tough and holds tighter amidst long and intense training.
Like first-rates Brazilian Jiu Jitsu Gis, the EVA foam rubber collar serves its purpose. It actually helps the Gi dry faster and slows the spreading of bacterial and fungal infection. One of features that gets noticed right away is the unique cut of the Gi which keeps the uniform fitted and difficult to grab by the opponents.
PROS
Great style and quality
Collar helps the Brazilian Jiu Jitsu Gi dry faster and slows down spreading of bacterial and fungal infection
Unique cuts keeping the Gi fitted and hard to grab by opponents
Durable, but smooth
100% pre-shrunk
100% cotton
Very high quality.
Good fit, comfortable to wear, and stylish.
CONS
Some sizes are too large for some
Sizing runs large
The style, weave brands, and quality of every product are at the highest standards so you can never go wrong buying one of these Gis. Talking about the benefits in general, the Storm Kimonos "Supreme" Gi turns out to be the most recommended brand to use.
Depending on your needs as a practitioner, if you religiously roll in the mats, perform intense training every day, and or often join a lot of BJJ competitions, it's really important to put "quality" and "durability" on your priority list.  If you are more on style and just making Brazilian Jiu Jitsu a favorite pastime, you can have the simpler Gis or the ones not too stiff and heavy to wear during practices, which goes the for BJJ beginners who will have to start learning the basic techniques before going extreme.
Deciding which Gi works best for the buyer's end varies from their needs and preference. While the list suggests high-quality Gis which can absolutely make it to bunches of intense training and competitions, the Storm Kimono "Supreme" Gi wins a 5-star rate from the majority. The popularity of the product is already given, but it would have never reached the top without first proving its worth in the markets.