In comparison to other combat sports, Brazilian Jiu Jitsu is highly regarded and requires a lot of time and effort before one can reach the mastery level. Unless you only want to make it a part of your leisure time, frequently rolling in the mats and beating hundreds and thousands of techniques won't be easy.
Below is the list of the best BJJ DVD for beginners and each comes into view with reviews and feedback from individual practitioners who have tried the DVDs themselves. Given that it'll probably consume a lot of time training, it's best that you save as much time as you can and allot it to your BJJ training schedule instead.
Brazilian Jiu Jitsu Blue Belt Requirements: Fundamentals For All
The Progression: Jiu Jitsu from White Belt to Black
Cesar Gracie Brazilian Jiu-Jitsu & Gracie Jiu-Jitsu Grappling Instructional Series
Buying a BJJ DVD does not mean hiring professional trainers is less likely needed. This combat system does not have the same flow as the others and BJJ involves major grappling, ground fighting, and intense sparring most of the time. Before officially starting the BJJ journey by yourself, get some knowledge by watching a lot of helpful BJJ videos and demonstrations. If you don't have any DVDs on-hand to use for your first training, check out the best BJJ DVD for beginners listed below.
Brazilian Jiu Jitsu Blue Belt Requirements: Fundamentals For All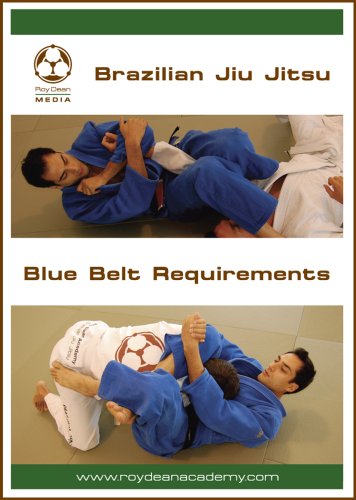 Brazilian JiuJitsu is not as the same as doing basic aerobics and exercises, but more like something that needs careful practice and training. In the belt ranking, the first two ranks white and blue are the stages where a practitioner gets to learn all the basic execution and steps before moving to the next rank.
If you think you need more solid understanding of this martial art, as well as aim to succeed in your current ranking moving forward, this DVD is a good start. This comes into view with 2 sets of DVD flaunting Roy Dean's summary of his blue belt requirements for Brazilian Jiu Jitsu. While there's a bunch of effective ways to learn and practice hundreds of techniques, the learning process seems to be better and faster when being clearly demonstrated step-by-step in a video.
PROS
Excellent primer for starting Brazilian Jiu Jitsu
The DVD covers many of the most common "basic" BJJ techniques
Awesome training series
The training course is well-done, helping beginners to understand more about BJJ techniques and movements
Very clear, simple to understand, and much on-point
Highly recommended for beginners
Best substitute for individual practitioners who can't physically attend BJJ classes
Program scheme is well-constructed: learning, practice, and review
Street self-defense version, works best for women who are concerned about their personal safety
Very detailed and comes with a solo demonstration for practitioners who do not have partners while training
Drills and solo practices come in handy
Can learn the techniques at the highest standards
Well-filmed videos and play with no errors
Very systematic
The instructors are also great motivators
Production quality and structure are done in a very professional approach
CONS
Quite expensive
Short video for the price
The Progression: Jiu Jitsu from White Belt to Black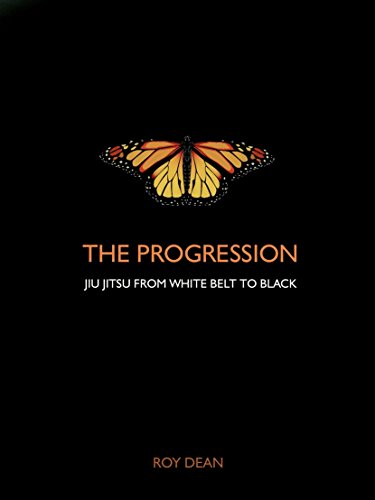 The Progression: Jiu Jitsu from White Belt to Black is a limited edition consisting 10 classic DVDs per set. Unlike the Gracie Lifestyle Combatives Standard DVD package that seems to be more fitting for beginners in this martial art, this one more likely focuses on improving BJJ studies.
If you like the combo of learning and training at the same time, you need to try "The Progression" as one of your training fundamentals. The course comprises 10 discs with blue to black belt requirements, which means this may not be highly recommendable for everyone, even more to beginners who have yet to learn any BJJ technique.
As for the buyer's judgment, if you do not consider the downside relevant to your preference and standards, you'll definitely develop some interest on this. One of the best advantages you can get from this package is knowing that it's totally instructional and very easy to understand.
PROS
Excellent demonstrations
Excels in every category
Help the students learn even faster and deeper
Instructional and easy to understand in general
Great value for the price
CONS
Difficult pick for beginners
Training discs come with blue to black belt requirements
Cesar Gracie Brazilian Jiu-Jitsu & Gracie Jiu-Jitsu Grappling Instructional Series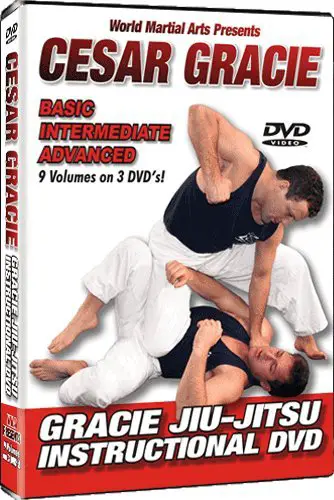 The Cesar Gracie Brazilian Jiu Jitsu & Gracie Jiu Jitsu Grappling Instructional Series is one the best combos you can ever have in your lifetime. The combination seems to be perfectly fitting to all types and levels of Jiu Jitsu practitioners.
Furthermore, this instructional series contains 9 complete volumes of techniques ranging from basic, intermediate, and advanced. If you want the whole package at a fair price, you can never go wrong with the Cesar Gracie BJJ DVD.
The entire course presents a well-detailed instructions divided into 3, providing beginners the advantage to learn the martial art step-by-step and in a more organized way.
PROS
Cesar Gracie provides great analogies
Great demonstration and moves from every angle
The BJJ DVD is into different levels, which is a good thing as this would make the process more clear and easy to understand, especially for the beginners.
Cesar explains the movements one by one
Very straightforward with crystal clear demonstration
Kept simple – a lot easier to cope for beginners
Very on point
Emphasizes effectiveness of every technique
Outstanding quality for the price
Very accurate in general – moves, techniques, performance
The teaching style is perfect for many martial arts aspirants
A very informative BJJ DVD collection
CONS
Techniques can't be selected from a menu library
We can't deny the fact that BJJ has hugely taken its spot in the industry of martial arts. Brazilian Jiu Jitsu is a great sport and more individuals are getting hooked and joining the circle. If you are a newbie or someone who is just about to attend your first BJJ training, you might want to check out other means of learning this combat without the need to go to a special studio or hire a personal trainer.
While it's definitely a great idea to really commit your time to going to studios and start rolling in the mats with your personal trainer, it seems as though home training is a lot better and even saves you more time, extra time that you can allot to other things aside from training Jiu Jitsu.
All three BJJ DVD series listed in this post get the best reviews in the market. But, the Gracie Lifestyle Combatives Standard DVD Package and the Cesar Gracie Brazilian Jiu-Jitsu & Gracie Jiu-Jitsu Grappling Instructional Series are the best pick for beginners or anyone who needs a more concise yet straightforward instructions.