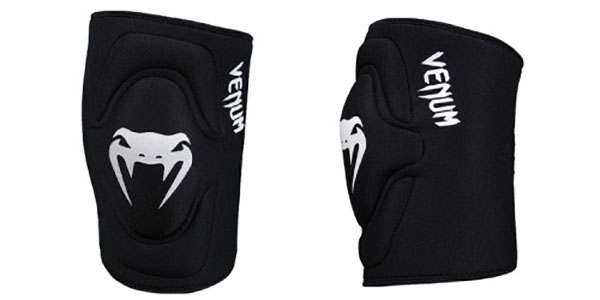 Knee pads are used for a variety of different reasons, but the most common is to help protect and prevent knee injuries. It also helps with stiff muscles and increases blood circulation. For example, bicyclist wear knee pads to prevent injuries to their knees if they were to fall off their bike. In Brazilian Jiu-Jitsu, as more and more academies are teaching takedowns and incorporating wrestling moves into their curriculum, protecting your knees as well as your mouth is even more important and in this article we go over some of the best BJJ Knee Pads on the market.
If someone is looking to buy some type of knee pad, the main feature they should look for is the cushioning and comfort so you are able to do whatever activity comfortably. If there is no cushioning, then when your knee hits the mat, or even worse, the floor, then you knee won't have that protection on your knee.
The second thing to look for when buying knee pads is to see how well it fits. Make sure it doesn't constrict any of your movements. Make sure it isn't too tight. You want your knee to still be able to breathe but help protect and comfort from any kinds of injuries that could occur. Not to mention that also having it too tight could cut off your blood circulation. Also, if you wear spats it needs to be be comfortable. When training in Jiu-Jitsu, this is going to be more challenging to find the right fit as you are going to be in contact with a partner and more than likely, your knee pads are going to shift. It's just inevitable that you will have to readjust at some point during sparring, which isn't a big deal as the same goes with having to readjust your belt and bjj gi.
Below is a table of some of the top knee pads, and right below that is a review of each one.

BODYPROX PROTECTIVE KNEEPADS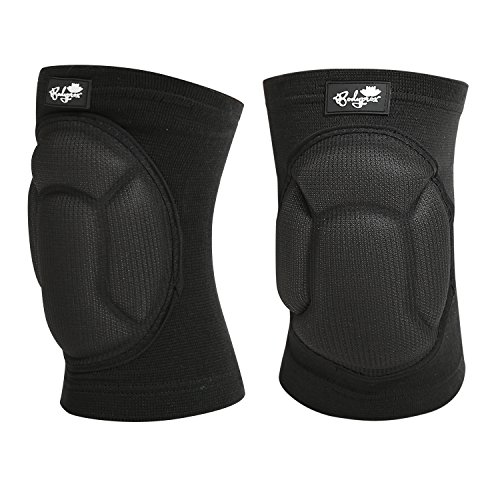 The bodyprox knee pads come in 2 sizes at the time of this article which is great because this means you will surely find the right size. The pad is made from high density foam and the material is breathable which will help when you are sweating during your jiu-jitsu rolls. Most people who use these kneepads are wrestlers, since they hit the ground a lot which is great for people in Jiu-Jitsu.:
PROS
Provides comfort if your kneeling
Does not slip
Fits well over other clothes
As most products, there are also some bad reviews and some of the cons that were listed said this:
CONS
Rare, but a customer found that center pad flattened out after only few uses
If you are bending up and down a lot, the pads could shift
A little thinner than major brands
RDX KNEE SHIELDS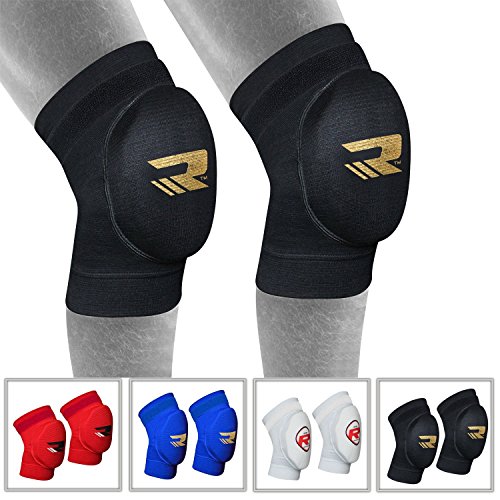 The RDX knee shields seem to come with a bunch of great features specifically for people in mma and bjj. These knee pads use Dri-Fit technology which helps when all that sweat is building behind your knee. The laso have a velcro strapping system for locking down the pad and it also synthetic. These knee pads are very durable.
PROS
Durable and flexible
Stay put and are easy to get on
Great fit since they employ the velcro system
CONS
A customer noted that when she was dancing, the pads slipped a bit
Overtime, the velcro can wear off
VENUM LYCRA GEL KNEE PADS
These Venum knee pads are pretty cool looking. A serpent picture on your knee cap. These knee pads are designed specifically for grappling and have an inner terry loop fabric. These types have air vent holes for more better breath-ability. Couple other things mentioned are high impact absorption and it is a slim but comfortable fit. Some pros are listed below:
PROS
Helps with occurring knee pain
Nice fit and stays in place
Good padding
CONS
Too tight
Fall apart easy
Does not stay in place
You can't go wrong picking any of these knee pads. And we highly suggest purchasing knee pads for your knees, the same way we recommend buying headgear and ear guards to protect your ears. However, we would recommend either the RDX or Bodyprox just because they seem to have the highest protective cushion on the actual knee. These products seem to have the best review and provide the most comfort to people. As we stated above, knee pads can be used for a variety of different things that can involve pain, but most of the time, people tend to use them for some athletic sport.
Both of these products people have stated that it fits well and provides a good cushion. It could be stiff when you first get them but after a couple uses, they will eventually break in. However, the more protection and bigger the foam is on your kneepad, the bulkier it is going to be. Especially if you wear them under your gi pants. So if you are looking for something a little more discreet that offers good protection, then Venom is the way to go. Either way, make sure you protect your knees using something such as BJJ mats or anything that can prevent you from getting scratches and injuries during you training and Jiu Jitsu practices.