Unless you are walking out of your house with your jiu-jitsu gi on, you need some sort of bag to carry your gi and all of your equipment and gear in. Luckily, there are bags made especially for jiu-jitsu. Lets discuss the best BJJ bags of 2022. (We have been reviewing these bags each year since 2015 and updated this review in 2022 to reflect new bags.)
If you train in the gi, you know the routine. Take out your gi, your belt, your rash guard, your mouth guard, strengthening tools, your protective cup… maybe you have some athletic tape and a drink. Then you have to put away your clothes, your keys, your wallet and anything else you brought before getting on the mats. Even if you train no-gi, you still have a lot of gear to worry about.
Then you train. Build up a nice sweat the size of a pool. You have to then put all your sweaty gear back into your bag and off you go.
There are bags… and then there are jiu-jitsu bags. Jiu-jitsu bags are made to take care of the hassle of organizing all your gear. They have cool separate compartments to divide your sweaty gear from your dry clothes. Maybe some jiu-jitsu books. Some even keep your food, snacks and drinks cool!
When shopping for a jiu-jitsu bag or MMA bag, you want one that has several compartments and one that is built to last. You can always find cheap bags, but why not make the investment on one that looks great and will last you a lifetime?
Below are the best BJJ Gi Bags of 2020. We started this guide back in 2015 and have been updating ever since:
Venum Trainer Lite
Material: Polyester
Dimensions:
Length: 680mm
Height 330mm
Width: 260mm
This bag has several available colors, from a subtle black on black look if you don't like to call out too much attention, to bright yellow that will let everyone know you have arrived. This bag features a large compartment that will store all your gear including your Gi and even sparring gloves and more. This bag also has a mesh panel that will allow breathability and won't have you stink up the room. There are also side panels and a separate compartment for you to store your mouthguard or any tape.
PRO
Huge Main Compartment
CONS
Since there is one huge main compartment, the separate compartment could be a tight squeeze to store your Gi after use. 
Sanabul HYBRID MMA BJJ Gym Duffel Backpack Bag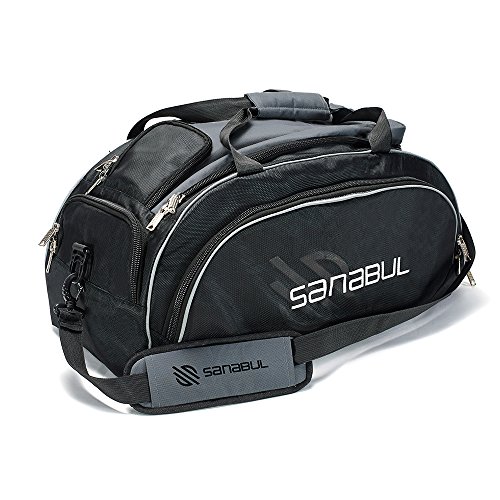 Material: High Grade Ballistic 1200D Cordura Dimensions: 30x18x15 This jiu-jitsu bag can be worn as both a backpack or carried around like a duffle bag. Although from some customer reviews, in order to really wear this as a backpack, you have to carry lighter weight and since you also have the duffle bag handles, it can look funny walking around with the loose handles. The Sanabul comes with a lot of different pockets to store everything from keys, wallet and of course, all your bjj gear. The size is great and also has a separate compartment to storey your dirty clothes or to keep your shoes separate from the rest of your gear. This side compartment is ventilated to not stink up your entire bag. The bag was made to be durable. It is made from a high grade military type of nylon called 1200D Cordura.
PROS
A lot of compartments
Can be used a backpack or a duffle bag
CONS
Some customers report the logo begins to fade the longer you have it
VENUM CHALLENGER PRO BACKPACK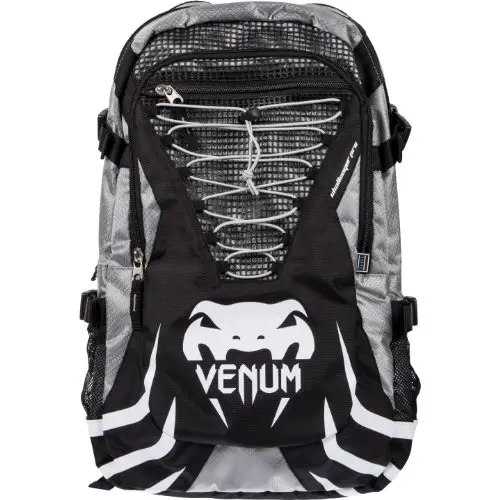 Material: Polyester Fabric Dimensions:19.7 x 13.8 x 2.4 This backpack looks great. As expected, this backpack is very comfortable to wear. It's padded in the right places. The shoulder pads are padded to make carrying all your BJJ gear as comfortable as possible. The back of the backpack is also padded and has an air mesh fabric. There is a main compartment that features a velcro closure. The company claims this special closure can hold a 17 inch laptop, but several users are saying that it won't even hold a 15 inch laptop. So if you are carrying a mac air or a 13 inch computer or tablet, then this would be perfect. There is also a cool mp3 player pocket with a head jack opening so you can listen to music to get your pumped up right before class starts. There is a second compartment that is also large enough to store equipment. It's smaller than the main compartment and it may not fit too much extra gear. You can use this to carry your
Venum Knee Pads
if you own them. Overall, people who purchased this bag like it and like all the several compartments, but also have stated that there isn't too much room. However, this can be a plus if you don't want a super bulky bag.
PROS
Foam filled shoulder straps
CONS
Smaller than expected, so make sure you double check the dimensions
If you are interested in only backpacks, check out our review of
the best bjj backpacks here
.  
Jiujitsu Central is a participant in the Amazon Services LLC Associates Program, an affiliate advertising program designed to provide a means for sites to earn advertising fees by advertising and linking to Amazon.com