Brazilian Jiu-Jitsu Gi, a training uniform used by individuals who practice Jiu-Jitsu, never goes out of the trend for many sports enthusiasts. With that, it seems as though the habit of regularly checking out the best looking BJJ Gi in the market has already taken its spot among practitioners.
Given the fact that this type of combat sport hugely consumes physical strength, it also steadily highlights grappling and ground fighting in the middle of battles and tournaments.
While one may choose to wear the basic non-traditional gear for no-gi such as rash guards paired with either board shorts or sweat pants, gearing up the best Gi still works and feels better when it comes to comfort and safety.
Below is a list of the top best looking BJJ Gi with a review of each product. You can also check out our review of the best bjj gi for under $100.
Bunches of benefits can be attained from engaging with combat sports like Brazilian Jiu-Jitsu. Aside from mainly learning self-defense, it can also be the best way to relieve stress, to grow self-esteem, improve inner and outer strength, physical composure, flexibility, and a better concentration.
Hayabusa Goorudo 3.0 Gold Weave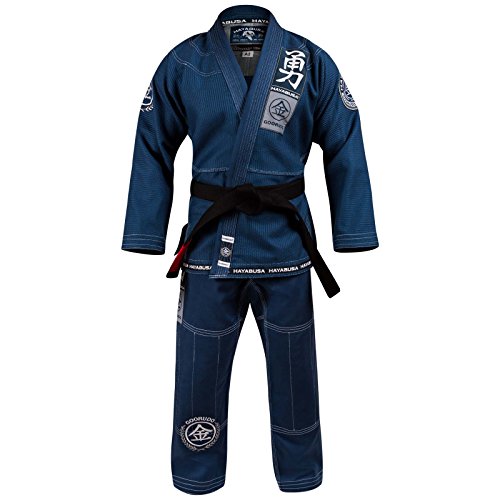 The Hayabusa Goorudo 3.0 Gold Weave is ideally recommended for all types of BJJ training and tournaments. The jacket comes with 550 gsm Gold weave cotton with augmented lapel and stress areas, while pants come into view with 12 oz twill cotton blend with augmented knees and stress areas.
In addition, regardless of the belt colors, this Gi is still going to be a perfect match as it brings out the value of every Jiu-Jitsu execution.
Speaking of performance, the Hayabusa Goorudo 3.0 Gold Weave was designed to be perfectly durable for daily rolls in the mats, which is a good thing for Jiu-Jitsu veterans who practice the sports religiously.
Pros
Softer than other Gis.
Extremely durable, which means it can last longer than other Gis.
Very high quality.
Good fit, comfortable to wear, and stylish.
Like most products, bad reviews are inevitable. Below are the cons listed based from some of the reviews.
Cons
Quite heavy and thick; might be a bit hassle to wear for some.
Filled with patches and embroidery
a little flashy Gi compared to many others.
Vulkan ULTRA Light Jiu-Jitsu Gi for Adults and Kids
The Vulkan ULTRA Light Jiu-Jitsu Gi is made of a Honey Comb weaved fabric that keeps lightness and softness altogether. Made in Brazil, this has become one of the best-selling Gis and is well-admired for its durability.
Weighing 2.6 lbs for an A1, this fast-drying Vulkan ULTRA Light Gi, happens to be one of the lightest Gis in the Jiu-Jitsu market. Tons of chart-topping Gis are all over the internet feeds, but this one has got to be one of the most popular best looking Gis in the row.
Pros
Lightweight and very soft.
Hassle-free to wash and keeps its shape subsequently.
Despite its lightness, the material is still thick and durable.
Cons
Big sizes compared to other Gis
Gi pants fold over in the front, which makes it a bit uncomfortable especially for kids.
Gi collar shreds easily
Bad Boy Premium BJJ Gi Jiu Jitsu Kimono – White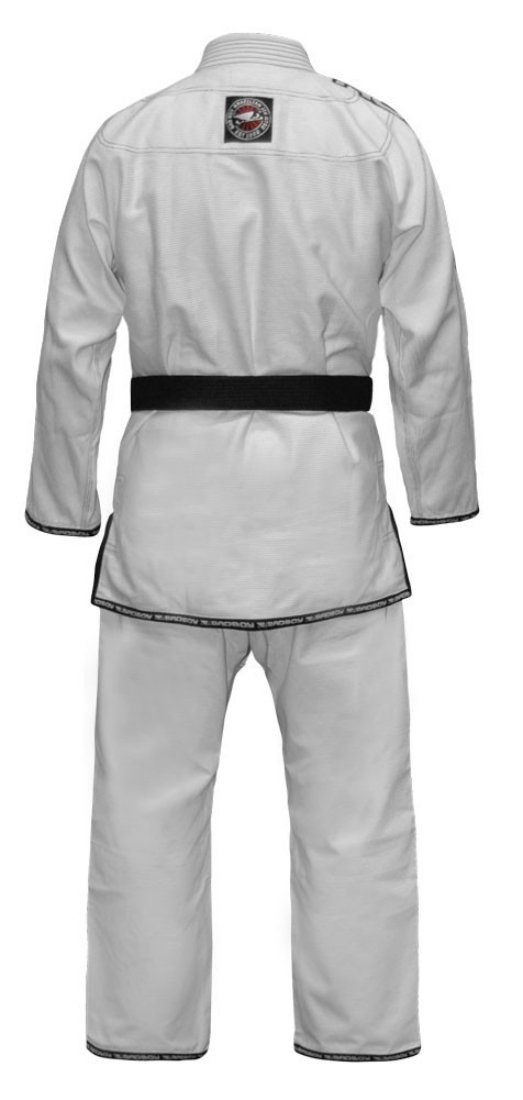 The Bad Boy Premium Brazilian Jiu-Jitsu Gi White comes into view with a soft sublimated lining, which is great when it comes to uniting various tricks and moves while combating or even during practices. It also has knee reinforcement that guarantees safety while keeping it durable.
While fabric quality and aftermath effect come firsthand for some, this Gi protects the knee areas where unavoidable minor injuries may occur after combats.
Moreover, the Bad Boy Premium also comes with drawstring loops in the pants, keeping it in the correct position amid grappling or executing various movements on the ground.
Pros
Great quality, fits well.
Breathable and protective, especially on the knee areas.
Durable
Cons
It can shrink to full size when washed, which means it might not last longer than other Gis.
Might not be advisable for intense training and tournaments
How to spot the best looking BJJ Gi?
Considering the designs and weave brands of each product, it surely is a "yes" for many Jiu-Jitsu enthusiasts.However, talking about the benefits in general, the Hayabusa Goorudo 3.0 Gold Weave and the Vulkan ULTRA Light Jiu-Jitsu Gis are likely to be recommendable.
Picking up which Gi works best for the buyer's end varies from their needs and preference. But, it seems pretty clear that the first two products have gathered the best real-time reviews from customers who had tested the products.
While the Vulkan ULTRA Light is one the best Gis that can be used by adults and kids practitioners, the description suggests that the Hayabuso Goorudo works better for those who undergo intense training and practices.
Setting aside the comparison of product quality, if the budget is tight for a gi and or if you are someone who falls under the beginners' category, the Bad Boy Premium BJJ Gi is a good option.
Unlike to those who are self-proclaimed Jiu-Jitsu contenders and devoted practitioners, who need better and more reliable sets of Gis, beginners do not necessarily need the types of Gis for tournaments as they won't be hitting bigger mats unless they have mastered the combat system.
Customer perception as a whole
Overall, purchasing the best looking BJJ Gi depends on how one perceives the product in general, which includes the following:
Durability
Lightness
Quality of the fabric
Fitting, sizes
Budget
Style, looks as a whole.
Weave brands
Product reviews
If somehow, you need to get yourself a Brazilian Jiu-Jitsu Gi that is multi-functional and comes into view with great style all at the same time, try checking out these products and see which one gets a five-star rating.
In a more weighty point of view, someone who's about to participate in a BJJ competition or tournament needs to abide with the rules. There are regulations that need to be followed and wearing the appropriate BJJ Gi uniform is one of them.
The Hayabusa Goorudo Gi, the Vulkan ULTRA Light BJJ Gi and the Bad Boy Premium BJJ Kimono White Gi are three of the best looking BJJ Gis you can choose from. The variations of each product will narrow several factors down in which you may consider before deciding the final choice.