Have you ever heard of cauliflower ear? If you have not heard of it, google images at your own discretion – and here is how to avoid it. When compared to other combat sports, Brazilian Ju Jitsu, for the most part, is not as likely to receive strikes or punches as other combat sports such as boxing or kickboxing. In other words, you are less likely to be hurt in a Brazilian Ju Jitsu match than a boxing or kickboxing match. The reason for this is because the art of BJJ tends to focus more on grappling and ground techniques than anything else.
The point being, despite Brazilian Ju Jitsu having less of a chance of hurting anyone involved, having a BJJ headgear and ear guard is a highly recommended. This situation is about equivalent to wearing a helmet when riding a bike. If you know how to ride a bike you may be less inclined to wear a helmet, however, just like with Brazilian Ju Jitsu, you never know when an accident can happen. It is important to make note of these facts because even experienced combaters in BJJ skip out on a headgear for fear of looking silly, just like with a bike helmet. Needless to say, if you do not want to get hurt, secure all your safety gears inside your backpack or gym bag before stepping out for training.
Now that all the informational mumbo-jumbo is out of the way, let's get to what really matters, the list of the best BJJ safety gear available for your approval. Here is a quick rundown as to how the list will be formatted for your convenience. For this list, the safety gears will be ranked from worst ​to​ ​best​ ​using​ ​a​ ​star​ ​rating​ ​system​ ​from​ ​one​ ​to​ ​five​ ​containing​ ​the attributes​ ​of​ ​quality​ ​and​ ​price,​ ​to​ ​help​ ​grade​ ​them.​ ​The​ ​higher​ ​the​ ​quality​ ​of​ ​performance​ ​and​ ​lower​ ​the​ ​price, the​ ​higher​ ​the​ ​rating.​ ​Here​ ​is​ ​an​ ​example​ ​of​ ​the​ ​rating​ ​system;​ ​Quality:​ ​Grade​ ​from​ ​A-F,​ ​Price:$-$$$$$, Rating:​ ​(EX.)​ ​2​ ​out​ ​of​ ​5​ ​stars. So, without further ado, here are the top 3 best BJJ headgear and ear guards.
Matman Ultra Soft Wrestling Headgear – ADULT
Quality:​ ​C​ ​Price:​ ​$​ ​Rating:​ ​3 ​out​ ​of​ ​5​ ​stars
At number three on this list is the Matman Ultra Soft Wrestling Headgear. For a price of only around $20 or so at most places, you would think you are getting a steal of a deal for a simple headgear. However, it is important to keep in mind that you get what you pay for. Specifically, this headgear is designed and manufactured in a soft and sleek, one size fits all piece.
Without having any intricate design or piece, this headgear was simply created to get the job done. In other words, it protects you and that is it, what more do you need from a headgear? While this is true, where it lacks is with its quality attributes. For example, reviews on this product will tell you that its one size fits all design is troublesome for those that have bigger heads.
In addition, those same reviews will explain how the chinstrap which holds everything together, may sometimes come loose with people who have bigger heads and, can be improved upon. With that said, if you want a simple, comfortable, and very affordable protective headgear, look no further than the Matman Ultra Soft Wrestling Headgear. For more information on this headgear, take a look at it for yourself in the link below.
Source​ ​link:
​ASICS Conquest Ear Guard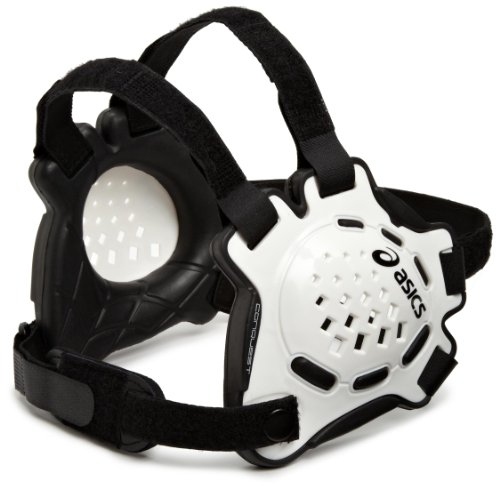 Quality:​ ​B+​ ​Price:​ ​$$ ​Rating:​ ​4 out​ ​of​ ​5​ ​stars
With this headgear, now we start to get a little bit more creative in quality and design. With the ​ASICS Conquest Ear Guard, you also get a one size fits all protective gear, however, its well designed adjustable head strap allows for it to be adjusted to any head size, unlike some that only have one size for all heads.
Other than that unique quality, there is not much else to add as a pro for this headgear. It seems to function as well as other headgears. However, where some customers shy away from this product is with the price. Although $30 for most things seems like a fair and reasonable price, when you consider buying a headgear for $30 bucks which is pretty much created to do one thing, you start to look for cheaper alternatives that still provide the same function. If you want to learn more about this headgear, just visit the link below.
Source​ ​Link:
Cliff Keen E58 Headgear

Quality:​ ​A+​ ​Price:​ ​$$$​ ​Rating:​ ​4 & 1/2 ​out​ ​of​ ​5​ ​stars
Queuing the drumroll, the headgear that takes the throne as our pick of the best BJJ headgear is the Cliff Keen E58 Headgear. This headgear takes the number one spot because it has the perfect blend of fair price and good quality for anyone to enjoy using. Although it tops off at the same price of around $30 as the last headgear, this headgear gives you what you are paying for. Uniquely designed with a 4 strap system in a comfortable way, the Cliff Keen E58 is unlike most protective headgear. Add in the fact that it looks awesome and you will be more inclined to use it because the fear of looking silly will be gone.
The only drawback to this headgear is that the 4 strap system is a rather difficult one to use compared to other headgear but, once it is on it will stay on. If you want to take a look at the Cliff Keen E58 Headgear, visit the Amazon link below.
Source​ ​Link:
Final​ ​Word
What​ ​it​ ​comes​ ​down​ ​to​ ​is​ ​preference​ ​and​ ​your​ ​situation​ ​financially.​ ​Some​ ​only​ ​need​ a simple headgear that gets the job done while ​others​ will rather look for only the best and most ​high-end​ quality ​headgear.​ Personally,​ ​while​ ​I​ ​would​ ​rather​ ​invest in a high-end headgear right off the back, it is worth mentioning again that it is only a personal preference.​ Also, just know that when it comes to choosing the best BJJ headgear and ear guards, there is no wrong answer to whatever headgear you choose, they all do the same thing at the end of the day.