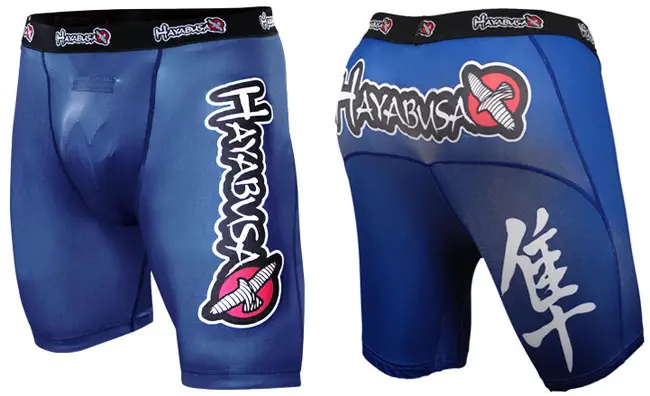 Without compression shorts to prevent groin and thigh muscles from rubbing together, not only does the surrounding skin tend to chafe, but sciatic nerve irritation can add to the discomfort. The most sensible way to relieve this situation is by separating and compressing these muscles, hence the need for a good pair of compression shorts or spats. There is no scientific proof that wearing them enhances performance but many professionals do anyway. If nothing else, the comfort factor alone is often all it takes to make a winner. Here are a few of the best compression shorts for MMA that best Amazon has to offer, all chosen for their high customer ratings.
When looking for a compression short for MMA and Jiu Jitsu, you are looking for the ones that provide you the most comfort. A lot of times, that has to do with the material. You also want one that is going to last.
Sanabul Mens Compression Base Layer Workout Jiu Jitsu MMA Shorts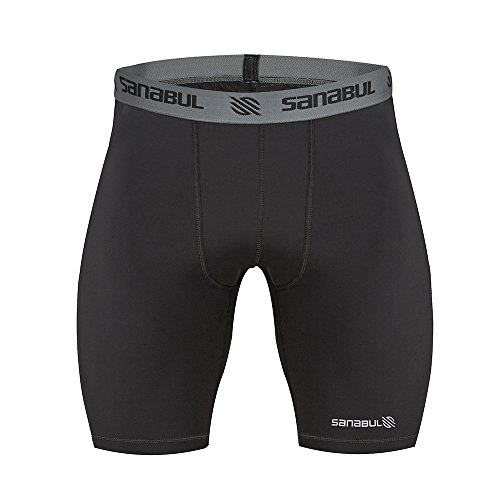 Made of material designed to stretch 4-ways, wearing these MMA shorts encourages blood flow throughout your muscles via graduated compression. Considered by many to be the best compression shorts for MMA, Sanabul's are designed to work just as well indoors as they do outdoors in any kind of weather. Also, when outside they even offer UV SPF protection.
No matter what the competition is, the comfort of this blended polyester, nylon and spandex material allows you to concentrate on winning without the distraction of uncomfortable clothing. Quality 5-thread, 2-needle stitching says these Sanabul's will last through many uses while an elastic waistband ensures their comfort.
Pros
Snuggly fitting legs prevent irritating "ride up."
Ultra comfortable whether under a gi or worn on their own.
Cup prevents genitals from being obvious or "roaming about" during activity.
Cons
Middle seam lacks interior protective panel and this may cause chaffing.
Taller athletes find them a tad short which can lead to uncomfortable squeezing of the quad.
Shock Doctor Compression Shorts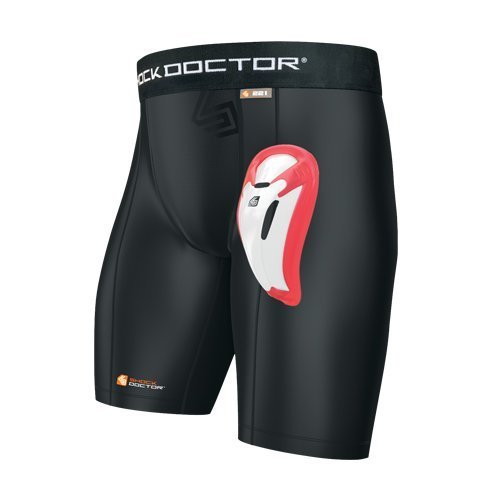 Designed for the lower third of the cup to fit naturally between the legs, no matter what the sport is, Shock Doctor has the comfort factor well in hand with these shorts. 4-way stretch fabric has a moisture wicking capability that keeps you comfortable and dry. The dual mesh, bio-flex cup not only keeps your genitals safe, it also keeps you cooler no matter how strenuous the activity may be and the comfortable waistband is a huge plus.
One try with your cup securely held in place by the X-pocket is all you'll need to see why the Shock Doctor is one of the best compression shorts for MMA on the market. The bio-flex cup has an integrated gel perimeter pad which adds even more to the comfort level and makes it easy for the user to push themselves a little harder, a little longer.
Pros
Fits well under clothing and will not "ride up" no matter what the activity is.
Holds up well in Laundry. Can withstand many washings.
If different size cup is needed other than what came with the shorts, exchanges are very easy to do.
Cons
Protective cup protrudes forward and is very obvious.
Tags are sewn in to the waistband and may need to be removed for comfort.
Hayabusa Haburi Compression Shorts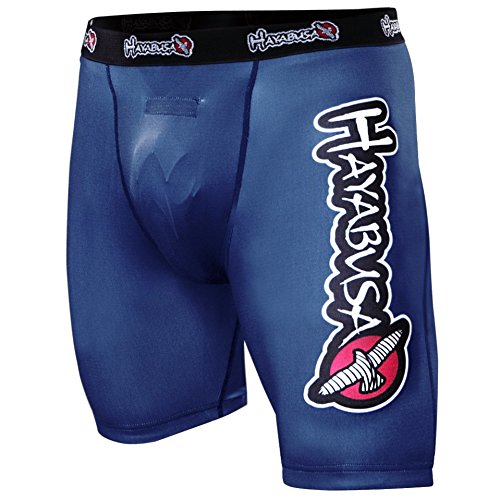 The Hayabusa Haburi brand was created with serious athletes in mind. The extreme comfort of this soft Thermawick material is one of the reasons this brand is seen as one of the best compression shorts for MMA on the market. Muscle performance is maximized and antimicrobial technology within the fabric will guard against infections. ExoForged armored cup is securely held by an integrated pocket so it stays where you put it.
The fiber-fused design is amazingly durable and a guard lock on the waistband as well as the cuffs means these shorts wont shift during movement. The quality and comfort built in to these compression shorts is obvious the first time you wear them either on their own, or under other clothing.
Pros
Cup slides easily into place.
Known to outlast and outperform most other brands, compression shorts of this quality are considered a sports investment for winners.
Simply pay attention to sizing charts and satisfaction with Hayabusa is a given.
Cons
Cup pocket may feel as if it lacks proper tension.
Lower leg is small near the bottom which can be uncomfortable on larger people.
There's no doubt athletes who take their safety seriously should be wearing compression shorts of some kind. As well, as wearing a mouth guard for safety. With safety and comfort taken care of, it's much easier to concentrate on enjoyment. The three offered above are considered best by some of the toughest critics there are, consumers just like you.