Aside from gis in the Brazilian Jiu Jitsu, martial art mats are one of the essentials to give you the perfect platform for your training sessions. If the combat sport you are into requires ground fighting, grappling, and intense rolls on the mats,  you will probably get yourself hurt if you start training without the proper tools to protect yourself from possible injuries, especially the knee and elbow areas which are more prone to bruises and fractures.
Mats are very essential to martial arts such as MMA, Judo, and Brazilian Jiu JItsu, given that these combat sports are more on physical fighting and ground movements. If you are looking for a mat to start your BJJ training or simply eyeing for something to add on your BJJ mats collection in preparation for your upcoming sessions, this post will give you a short list of the best BJJ mats for home.
10'x10′ Dollamur Flexi-Roll Wrestling Mat

Get Rung Martial Art Mats (1 Inch) 25 mm

IncStores – Tatami Foam Tiles
It's always a great idea to keep a more comfortable and safe way of practicing BJJ, especially if you are hooked into long hours of training. Brazilian Jiu Jitsu is not like any other sports where you can only use whatever tools you want, even more if you are religiously training out of passion and or if you perceive BJJ as a more important asset of your personality.
10'x10′ Dollamur Flexi-Roll Wrestling Mat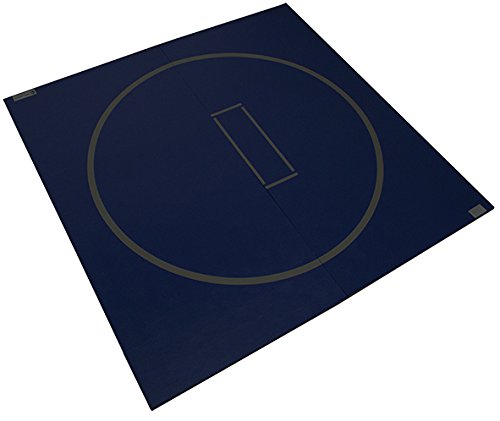 The 10′ x 10′ Dollarmur Flexi-Roll Wrestling Mat is one of the latest innovations of the Dollamur Sports Surface Flexi Roll. This product is well-constructed to the highest quality, providing superior durability for long hours of training and competitions. If you are looking for a mat that can withstand repeated compression, you can never go wrong with this Dollamur Flexi-Roll Wresling Mat.
In addition to the bunches of benefits that you can get, this mat is manufactured with an athletic grade closed cell materials and cross linked polyethylene foam for maximum shock absorption and a 24 oz vinyl surface to keep the mats intact even after several usage. The vinyl surface is also anti-microbial that fights odor-causing microorganism and microbial deterioration, which means this product is made for long-term use.
PROS
Great for any combat sports such as BJJ, wrestling and judo
Provides a good workout area
Excellent quality, especially for the price
Very portable and works perfect for home training
Lightweight but very durable
Easy to store
Easy to clean
Big enough to execute drills and rolls
Package comes with a mat tape
Much lighter than traditional mats
Great for solo drills and practicing BJJ techniques
CONS
Did not come with the circle which eliminates some drills
Get Rung Martial Art Mats (1 Inch) 25 mm 
The Get Rung Martial At Mats are well-made with superior durability without compromising comfort. It is constructed with high density and a high quality foam that is lightweight, water-resistant, with the highest safety ratings, and very hassle-free to assemble. If you are looking for a mat that can provide serious between you and the floor, you can never go wrong with this mat.
Moreover, this brand also provides a cushion to hard floor surfaces, which adds on to the comfortable feeling amidst your long hours of training. It will definitely serve its purpose in giving you 100%  protection while letting you enjoy and perform every movement at an optimum level.
PROS
Excellent product, especially for the price
Very comfortable to stand or sit on, especially on a cold concrete floor
 Easy to clean
They feel warm to bare feet during winter season
Can be used for a lot of things, not only for BJJ and many other combat sports
Feels easy on the feet – which means this mat makes it easier for you to execute your movement
Serves perfect for intense rolls on the mats
Thick materials and big tiles, allowing more space for performing techniques
CONS
The border was all over the place plus the grains don't line up
Soft enough to drive your heel into, but hard enough to have solid movement when wrestling
 The mats are an inch thick and are therefore not thick enough to be put on concrete
IncStores – Tatami Foam Tiles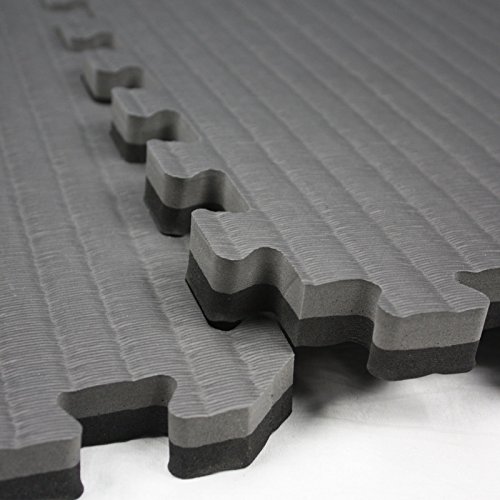 The Incstores – Tatami Foam Tiles can be the perfect practice buddy for highly regarded martial arts including Brazilian Jiu Jitsu. What makes it very unique in comparison to other mats is that it comes into view with 2 reversible colors and two detachable edge pieces, allowing it to be  multi-functional and be used for many things, not just for martial arts training alone.
There are tons of popular mat brands in the markets, but this has got to be one of the best deals. It is made of non-recycled, non-toxic, lightweight, and durable high density closed cell EVA foam, which were all combined to assure that the quality of the mats would suffice the needs of every individual, not just for the BJJ practitioners.
PROS
Smooth surface and non-porous
Perfect cuts and fits well
Awesome quality
Great padding, never slids
Multi-functional pads, works best for BJJ, Karate, Judo, and Taekwondo
Easy to lay down, the edges and corner pieces make it easy to give it a finished look
Not slippery and stays put on hard floors
Provides serious protection
Superb durability and quality in general, especially for the price
Locking squares stay together
Great long hours of workouts
Thickness and firmness are just right for protection in the case of accidental falls
CONS
There is a chemical smell, especially on the first use
Hard to eliminate chemical smell
It's clear enough that these mats are not only made perfect for BJJ home training and other types of martial arts, but also works best for other bigger purposes. If you have yet to decide which mat will you go for to begin your BJJ training for the week, the "IncStores Tatami Foam Tiles" is highly recommended as this is wholly designed to give a safe and shock absorbing training platform for several activities, including Brazilian Jiu Jitsu.
Regardless of mat brand, it's really a big deal as to which brand you will choose, if you think the other brand is a lot more comfortable, safe, and budget-wise than the one that is recommended to be a better option, then go for what you think is more fitting to your needs and preference.