Many academies make their students wear their own gi's. However, a lot of times, you have the option of wearing your own unique rash guards. And if you train at a no-gi school, then you probably have several rash guards that you rotate with during the week. In no-gi schools, since there are no belts to show your rank, why not show it with a unique top? Rash guards provide a lot of benefits to grapplers when rolling on the mats. As the name implies, it does prevent rashes from occurring under your gi. It also keeps you drier than wearing a plain t-shirt when rolling.
So if you wear a rash guard and/or spats, and we recommend that you do, you can really attract some attention with unique one. We do however believe, you should attract attention with your Jiu Jitsu skills first. Following, are crazy and funny rash guards for Jiu Jitsu and MMA that you can find online.
TURTLE RASHGUARD
It's not often people play Turtle Guard. But if you are one of those who use this technique, then this is the rashguard by Tatami is for you. The turtle guard isn't really a true guard. It relies on letting your opponent take your back. But don't underestimate the power of the turtle. Remember that story of the turtle racing the rabbit. And do you remember who won that race?
ANOTHER TURTLE GUARD RASHGUARD
We aren't obsessed with the turtle guard, but this rash guard by Newaza makes our list of funny rashguards because it looks like a Teenage Mutant Ninja Turtle. And who doesn't like them? If Splinter walks into your academy, you will be prepared to take him head on.
NOTORIOUS RASHGUARD
Groovy dude! So you like to flow and groove during your sessions? Then this rashguard by Hypnotik is for you. Lots of intricate designs in this rashguard could keep your opponent dizzy while you take their back and choke them out.
WHIZZER OF OZ RASHGUARD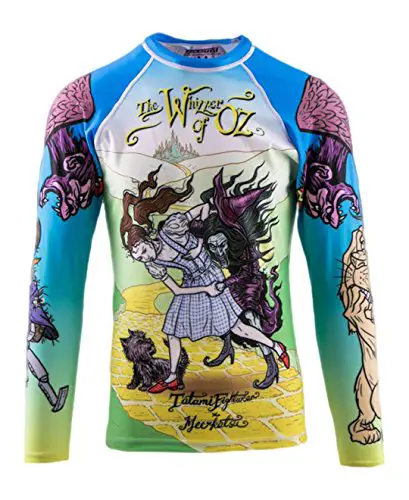 Dorothy, you are no longer in Kansas. Protect your back and quickly whizzer your opponent so they know what's up. Wear this rashguard by Tatami to let your opponent know you are not a chump, and no one is going to bully you. The questions is, what do you do from there? Is it time to call your buddy the tin man for help?
CHESS GORIALL RASHGUARD
You know you have the power of a gorilla, but you also know that you aren't going to waste all your energy pushing your opponent around. You're better than that, because you are more methodical and like to think things through. This rashguard by Tatami is pretty funny and features a cute gorilla playing a match of chess. Check mate?
TUXEDO RASHGUARD
If you like to dress up off the mats, then why not dress up ON THE MATS? Show up to class in your elegant tuxedo rashguard. This long sleeve guard is available in 4 colors and made by Hypnotik.
As you can see, you have a great variety to choose from when it comes to rashguards. You also have a lot of options if you wear compression shorts. If you don't like to attract this much attention, you can get plain solid color rash guards at your local sports store.