It may not be as necessary as completing your set of uniforms before you finally kick off your training for the day, but isn't it a lot better if you keep all your things well-organized and easy-access? With that benefit in mind, the Meister Vented Convertible Duffel is among the bunches of deals in the market.
The Meister Vented Convertible Duffel is a backpack gym bag that comes into view with plenty of uses, not just for packing your gym apparels. Of course, if you are someone who likes outdoor training a lot and prefers doing your workout routine away from home, you'll probably need something that can carry all your stuff, especially your necessities or anything that you can't go a day in the gym without.
While you can find bunches of gym bags all over the dept stores and or in several online shops, it won't harm if you will also consider opinions from individuals who have personally tried the products themselves. This post will help you understand more about the product, its benefits and features in general, all of which will help you decide on whether or not you should make a purchase.
Here's why the Meister Vented Convertible Duffel is a must try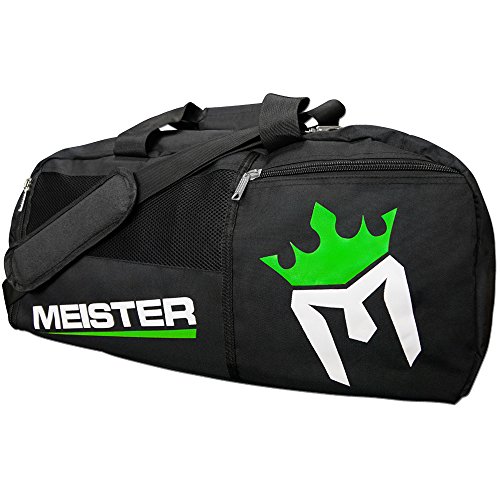 Perfect for gym and has maximum dimensions for an airplane carry-on, this bag is convertible from a duffel bag to a backpack in a span of seconds. In addition, this also comes into view with breathable Mesh Panels on both sides of the bag, allowing air to flow all throughout the entire bag – which is a good thing as it makes more room and will not keep your things too isolated while being kept inside the bag especially if you randomly carry you lunch, vitamins, personal stuff like hygiene kits, medicines, or snacks for a whole day of training.
High-quality backpacks are all over the internet feeds today, so finding the best deal won't be difficult for the consumers. Aside from the aforementioned benefits, the Meister Vented Convertible Dufffel has three-side pockets that comes into view in different sized, which can be used for extra storage or wherein you can ideally your phones, watches, and other accessories often removed before hitting the gym.
Now setting aside the benefits, some gym packers and or gym regulars also love the idea of carrying their bags with style. While it is not totally necessary to choose your gym bag based on style, it has become quite common among gym goers that they also consider going out looking stylish and cool.
With that being said, you can never go wrong with the Meister Vented Convertible Duffel as it also has great sense of style while not having to compromise the quality and functions in general. If you really want a total package and just eyeing for something worth the money based on your overall perception, this model has got to be one of your best picks.
What do you usually pack in you gym bag?
It may vary from the type of sports you're into, if you regularly go to the gym for basic workouts, you pack what are only needed like water, gym towel, shampoo, extra shirts, wipes and ponytails for girls, etc. However, if you do martial arts or any combat sports that mainly involves sparring and fighting, you might need more than the basic gym necessities – examples are tampons, blister pads, razors, pain relievers, mouthpiece, spats, gloves,  shorts, protein, vitamins, emergency kits and more.
Judging from how the Meister Vented Convertible Duffel bag is well-constructed with extra pockets and with its actual size larger than many other gym bags, you definitely have an ample space where you can place your extra things which you think are important and you consider a necessity to keep you going with your daily training.
In between men and women, it's the women who always end up bringing more stuff than men who can just settle with just a few extra shirts, a bottle of water, and face towels. It's not that this bag works better for women, but this is a better choice for most of them, especially over random circumstances where they find themselves completely stuck on what to wear and bring for their "gym day."
Below is a separate list of the pros and cons of this product based from real-time customer reviews and feedback from individuals who have personally tried the product themselves. This will help you better decide on whether or not you should make or purchase, helping you narrow down possible benefits that you can get from buying this Meister Vented Convertible Duffel bag.
PROS
There's a good space in the main compartment so if you play soccer, baseball, or football, you can fit most, if not all, of that gear in there.
The mesh outer zipped pockets are great – all the sweaty gear can breathe and dry out easily
 Great length adjustable shoulder straps
The bag is well-made of very durable materials
All compartments are extremely breathable
Fairly priced for its good performance and service
Heavy duty stitching and very high quality zippers that do not feel fragile like many other bag zippers
The bag is also very stylish
Very durable and still comfortable to carry even overstuffed
High versatility in carrying it on your back
Multi-functional and can be used for plenty of reasons – getaways, travels, and more
The side pockets are great for accessories like locks, mouth piece
Sturdy hardware which adds on to the durability of the bag
Overall quality is superb
CONS
Bag might get to heavy to carry and big to look at when fully-packed
The pros and cons aforementioned are real testimonials from users who have tried the product themselves and if you will be asked for your own assessment about the product's quality in general,  it's pretty clear that it doesn't find the need to say more on why this is the best deal.
You can always go extreme with a reliable backpack to help you withstand intense training and BJJ sessions. From the benefits, convenience, and the customer's perception in general, you will never have to gather more proof about how perfect this gym bag is for you. Unless you don't find the need to get a bigger gym bag, it's always best that you opt for something that can benefit you in so many ways – just like this  Meister Vented Convertible Duffel bag.