Seasoned BJJ veterans would tell you that it's much more important with whom you're training and how often you're training – than where you're training. However, there's no denying that the majority of BJJ practitioners are drawn towards luxury and they would much rather enjoy training in a luxurious BJJ gym than some underground garage. That being said, here's our list of the top most luxurious BJJ gyms in the world:
If you're a fan of the martial art and sport of BJJ, and if you want to train in the best facilities, then look no further than Temple BJJ. Located on the island of Phuket, Thailand, it's one of the most picturesque BJJ gyms in the entire world. Temple BJJ is part of Chivitr, which is a luxurious wellness center that's highly popular for rich tourists from all over the world.
You will get to see some of the most beautiful vistas by training in this gym, as there are some gorgeous views over the surrounding nature. The gym itself benefits from natural air conditioning in the form of a calm ocean breeze. Also, there's the renowned FUJI Springfloor mat system that you can practice on.
Situated in Zürich, Switzerand, the renowned Frota Academy is home of some of the best BJJ instructors in the world. It's a completely new gym that spans 850 square meters, so it can house a lot of students all at the same time. Of course, it's filled to the brim with some of the latest training equipment, including top-tier quality BJJ mats. Some of the guest-instructors that have taught the visitors of Frota Academy are Gilbert Durinho Burns, Marcus Buchecha Almeida, Leandro Lo and many others. The main instructors are Augusto Frota, Stephan Ruegg and Alfred Sutter.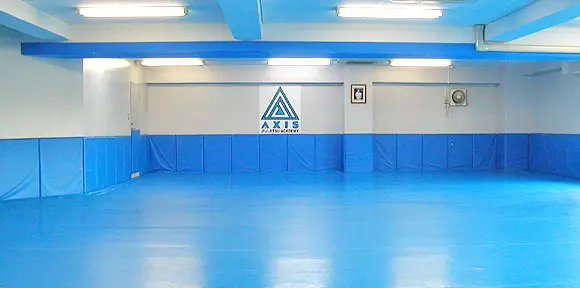 This is a very old BJJ Academy, having been opened all the way back in 1997, when BJJ was still not the world-wide juggernaut of a sport and martial art that it is today. It was originally founded by Takamasa Watanabe. In time, they've switched their training locations and they've significantly improved and upgraded their training facilities.
There are double-layered training mats that serve to prevent injuries and optimize the rolling experience. Moreover, Axis Jiu-Jitsu Academy is an official Rickson Gracie Affiliate. The head coach is the only black belt under the legendary Rickson Gracie in the entire continent of Asia. As such, Axis Jiu-Jitsu Academy in Tokyo, Japan is one of the most luxurious BJJ gyms in the world.
If you want to visit the gym of world champions Guilherme and Rafael Mendes, then you will need to go to Costa Mesa, California. It's a huge gym spanning more than 6,400 square feet. There are two mat areas where two different training sessions can be held concurrently for students. It's one of the most luxurious BJJ gyms in the entire world and it goes without saying that there are separate locker rooms and showers both for men and women.
There's also the option to have your gi laundered by the staff so that it's neat and clean for your next training session. Art of Jiu-Jitsu Academy has all it takes to be a world-class BJJ gym where practitioners from all over the world gather together and train.
---
See also Best Jiu-Jitsu Academies in Los Angeles
---
Gracie Jiu-Jitsu in Beverly Hills, CA
This list wouldn't be complete without included a Jiu-Jitsu academy in one of the most famous luxurious cities in the world, Beverly Hills CA. This Gracie Jiu-Jitsu academy is owned by non other than Ryron and Rener Gracie, whose main academy is located in Torrance, CA, but they often make appearances in Beverly Hills to teach classes.
It should not come as a surprise that many celebrities come to this gym and take private classes. Also, not only does this academy sport the luxurious address, but the facilities are top notch. It's like the 4 seasons of Jiu-jitsu. Private showers, private training rooms, towel service, beautiful mat space and seating area.
Evolve MMA Singapore
Evolve has the most number of world champions around the world. This luxurious training center has seen many of the top jiu-jitsu legends training here including the likes of Mikey Musumeci.
Chatri Sityodtong is the founder of Evolve MMA and also got his blue belt from Renzo Gracie. He also is the founder of One Championship and has poured enormous amounts of money into making Evolve MMA one of the best gyms and academies in the world.
BJJ Havens Around the World
You've now learned about some of the best, most luxurious BJJ gyms around the world. It goes without saying that, given their luxurious nature, they won't be accessible to every BJJ practitioner that's eager to train. But still, you just may be surprised at just how accessible these gyms really are.
We hope that you too will get the chance to train BJJ in the most luxurious BJJ gyms in the world and that you will get to hone your craft with the best BJJ instructors in the world. Traveling around the world and learning BJJ is an experience of a lifetime. We hope you will enjoy it yourself.